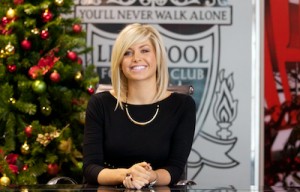 Liverpool FC has a worldwide fan base and many supporters dream that one day they can get the chance to work for the club. Two JMU Journalism students have already made that dream come true.
LFC TV, which launched in September 2007, produces a daily TV show for Reds fans around the world. Our own Sophie Fairclough and last year's JMU Journalism Sports Editor, Stephen Dickinson, have both landed jobs at the channel.
Sophie, who presents 'Most Wanted' every week, said: "I love TV presenting and to be able to work here as a Liverpool fan is great. I really love it.
"I didn't plan on coming into sport, but the opportunity arose and it's all I want to do now. I've learnt so many things here. I can hopefully continue my career at LFC TV when I finish university."
Former JMU Journalism student Stephen grabbed his chance to get involved with LFC TV just before he graduated in July this year.
Stephen said: "I turned up for a job interview and did everything I could do. I've now signed a nine-month contract with LFC TV, and I'll hopefully get kept on after the season is over. I'll continue to work hard and learn as much as possible.
"It was when I got involved with the JMU Journalism website I really felt that I came into my own during my time at university. I thoroughly enjoyed my time there, but it's a dream come true to work for Liverpool Football Club. I'm made up to be here."
As a TV runner, Stephen is the link between the producer and the presenters. He now encourages journalism students to take every chance they can get. "I took the opportunity to work for the JMU Journalism website and it's basically got me this job at LFC TV. If there are any opportunities out there, just grab them," he said.
Have a look at JMU Journalism TV's video special  above to get behind the scenes at LFC TV.
Update: Sophie graduated in July 2012 and she is now a full-time presenter at LFC TV.