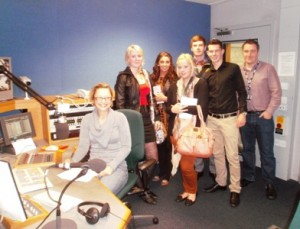 'Job losses' and 'angry staff' have been the words most associated with BBC Radio Merseyside over the past few days, after the BBC announced plans to cut 20% of the station's budget.
The atmosphere at the station has been the subject of extensive reporting and intense speculation in the local media recently, and five JMU Journalism Radio students got the chance to find out exactly what it is like as they toured BBC Radio Merseyside this week.
Expectations were high and the interest was keen as the students entered the main room of BBC Radio Merseyside, with news editor Lee Bennion showing us around and who does what.
As a journalism student with ambitions to move into radio, it was natural to start thinking: "This looks amazing, I would love to work in a place like this."
It was a colourful but busy room, full of professionals working on their computers or talking on the phone… exactly what you might expect at a local radio station.
One of the biggest impressions came when we got to watch Julia Bold present her 3 o'clock news report. Before Julia came in to do the live bulletin, Lee showed us how the system works and how it is done.
It looked pretty straightforward, though a little daunting, but from the time Julia sat down and went live (and the rest of us went extremely quiet) she made it look so easy.
One of the main things to note about the presenter was her voice. Before she went live, she chatted to us in a cheerful and informal way, but as soon as the red light came on to indicate that she was live, her manner completely changed.
Suddenly she slipped into her professional broadcast voice, with a low tone to it. It was obvious she had done this many times in the past.
After Julia finished her bulletin, she echoed the thoughts of us all: "It frightened the life out of me the first time too!" It must have been written all over our faces.
As we were walking through the station we got several smiles and 'hellos' in our direction. It was surprising to notice how light the mood seemed to be among the staff. Before coming to the station, it was daunting to think of how we may have been greeted, considering how hard the cuts have affected BBC Radio Merseyside, with 10 out of 46 staff members being made redundant.
But we had no need to worry as we got a great reception and the only comments we heard about the cuts were jokes.
The news editor and our tour guide did say: "It is hard, it's not often we journalists become news, but we have to stay impartial. It is important to remember that the whole country is in the same boat and we can't expect to be excluded from it."
Overall, the spirit within the station seemed good and the impression I got from being there was that they are trying to see things from a positive perspective.
The next stop on our tour was the radio studios, where the likes of Tony Snell and Billy Butler show off their broadcasting talent. Radio Merseyside has three studios lined up next to each other, so while Lee Bennion was showing us how it all works within one, Billy Butler was doing his show right next to us. Although we couldn't hear what he was saying, it was still great to see him work his magic.
Overall, it was a great day behind the scenes at BBC Radio Merseyside, where the staff gave no indication of a foul atmosphere at all, and we students got to see what the real working world looks like at close quarters.