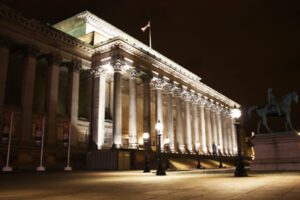 The St George's Hall Beer Festival is in full swing and by its end this Sunday it is expected to bring around 7,000 thirsty Scousers to the venue, sampling its 300 ciders and ales from over 100 national breweries.
The event, which is in its second year, looks set to beat the 2013 attendance of 5,000, with the biggest crowds to come so far expected on its final two days this weekend.
All this week it has been welcoming the public in, promoting some local breweries and celebrating the great British pastime of drinking ale.
Brewery boss Mark Hensby said: "It shows us that the appetite for quality handcrafted beers and ciders continues to intensify."
Festival-goer, David Matherson, 48, from Walton, told JMU Journalism: "I came last year and it's even bigger this year. The lager is still great and it's not often you get to sample such variety. It makes a change from the mainstream beers you get down the pub."
Some of the favourites that have done well on the previous evenings include two local breweries drinks, George Wright breweries 'Pipe Dream' and Melwood breweries 'Derby stout'.
As well as enjoying the vast selection of beverages, the patrons of the festival can also enjoy music and entertainment in the spectacular neoclassical hall.
Lindsay Jones, 33, who is one of many volunteering at the event, told JMU Journalism: "It's a really nice atmosphere and everyone can relax and socialise. I wonder why they didn't put the festival on years ago because Liverpool loves things like this."