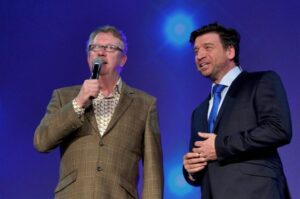 The BBC Worldwide Showcase saw stars come to Liverpool as some of the best programmes that Britain had to offer were sold to TV networks from around the world.
Presenters such as Nick Knowles, actor Mark Williams, MasterChef hosts John Torode and Donald Skehan, along with star of Sky One comedy 'Moone Boy' Chris O'Dowd were in attendance.
Famous shows such as Top Gear were sold to the Middle East, whilst series five, six and seven of Doctor Who – whose 50th anniversary was marked with a special Doctor Who evening – were sold to Al Jazeera's children channels.
Other programmes such as The Paradise, Call the Midwife and Ripper Street were also licensed internationally along with several Panorama documentaries as over 700 delegates attended the four-day event.
Cassandra Power, Communications Manager at BBC Worldwide, told JMU Journalism: "The purpose of showcase is for us to show the world – network-wise – the best of British. So that's anything from the BBC but we also do it for Sky, ITV, the Channel Four programmes and Five."
This was the second time that Liverpool had hosted the showcase, after spending many years on the south coast in Brighton.
Rebecca Ransley, Television Sales manager for BBC Worldwide told JMU Journalism: "A couple of years ago we just outgrew the space and ended up here, which is fantastic for the scale and really demonstrates the volume of programming  we've got to offer and the clients who are coming to visit us."
With many of the shows being sold around the globe, Claire Hutchison commercial manager for comedy for BBC Worldwide explained to JMU Journalism about how certain British shows appeal to different parts of the world. She said: "America is quite a hard market for us to crack. They obviously have big-hitters such as Big Bang Theory and New Girl but they have a massive appetite for British comedy, British drama, anything British, so it's fantastic for us.
"We're finding the slightly newer, softer comedies that we're producing and selling are doing really well."
Additional reporting by Alice Kirkland