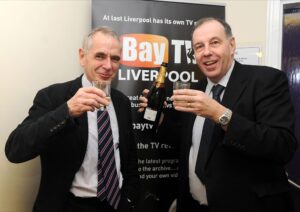 Bay TV has won the licence to broadcast on Liverpool's new digital television channel.
The station, which is based in Liverpool Innovation Park, won the bid against several other competitors, with broadcasting regulators Ofcom announcing that their proposal was the strongest.
The internet-based channel will now air on Freeview channel eight, as well as Sky and Virgin.
Four other bids for the Liverpool licence were made by YourTV Liverpool, Made Television, Metro8Liverpool and Phil Redmond's Our-TV consortium.
Chris Kerr, Bay TV's Programme Director, admitted that the stiff competition meant that they were nervous about their bid.
He told JMU Journalism: "To tell you the truth, we didn't feel ready to bid at first. We were worried Ofcom would chose one of the others because we are a small company and we don't have big budgets like them. We looked at the other bids and thought we are in with a good chance but weren't expecting to win. We are all smiling now."
Bay TV has been running on the web for 15 months and CEO of Bay TV, Chris Johnson, received the call he has been waiting for from Ofcom at 9.15 this morning informing him of the good news.
Mr Kerr spoke about big changes coming at the station following the awarding of the licence. He told JMU Journalism: "We are a very small company but we are going up to 19 staff now. We will have to make more programmes that are longer and in greater depth.
"They will have to be about 25 minutes and we will be doing live news two or three times a day."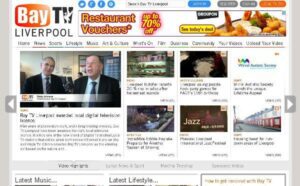 The channel will now air in around 890,000 homes by the end of next year, not only in the Liverpool city region but also in Halton, Wigan and parts of Cheshire.
A spokesman for Ofcom said: "Bay TV Liverpool put forward proposals which the Broadcast Licensing Committee (BLC) considered would broaden the range of programming available to the greatest extent of all the Liverpool applicants, and would also increase the number and range of programs made in or about the local area.
"The BLC considered that Bay TV Liverpool's application demonstrated the greatest understanding of the needs of the local area and put forward programming proposals which would address those needs to the greatest extent."
Bay TV Chairman Jack Stopforth said: "I'm thrilled for the team. We were always quietly confident that Bay TV's mixture of solid journalism and access to the business community would stand us in good stead.
"The hard work is just beginning and we can't wait to get started. Our vision for local TV is to capitalise on Liverpool's resurgent business and arts scene and make it accessible to our local audience.
"This city has always been a fantastic source of news and Scousers have a huge appetite for supporting and promoting their city. We have to channel that and capitalise on it."
Additional reporting by Elisha Storrow