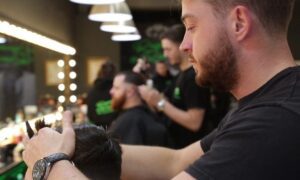 A Liverpool barber shop is offering free haircuts to children during half-term – as long as they take a reading book along with them.
Rogues and Rascals in Huyton Village are giving their trims for free to kids under the age of 12, if they bring a story ready to read to the barber while they style their hair.
Owner, Martin Langan, came up with the idea when talking to a local teacher who was looking to provide some of their pupils with an incentive to read.
He told JMU Journalism: "We gladly obliged and then when I was sitting reading to my four-year-old son, I had a brainwave how to make the idea much bigger. From that, we came up with this incentive that helps out the parents and the children during half-term."
The offer is running throughout this week between 9am and 12 pm, finishing on Friday February 16th.
Martin said: "The response has been unbelievable, both in the barbershop and also on social media. So many people have been sharing our posts it has gone viral. We have even had messages of support from barbershops in America."
Due to the success of this scheme, the shop is now planning their next offer, 'Trims for OAP Tales.'
YouTube: Knowsley Council