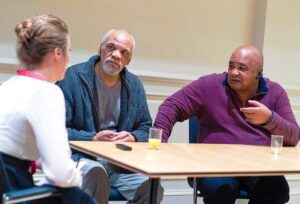 Liverpool actor Paul Barber returned to the city this week to give his support to a campaign very close to his heart, and talk exclusively to JMU Journalism.
As part of National Care Leavers' Week, Paul, along with his foster brother Ben Brown, spoke to Liverpool John Moores University staff and students about growing up in the care system.
Having spent the majority of their childhoods in care, with Paul entering the system aged 10 and Ben at just 18 months, both brothers don't want to see what happened to them happen to other children.
The Toxteth-born star is now a household name, best remembered for his character 'Denzel' in TV classic 'Only Fools and Horses', and stripping off in 'The Full Monty' movie.
However, he had a very difficult start in life and spent over 10 years of his Liverpudlian youth growing up in children's homes and foster homes around the city. Speaking to Paul, as he kindly tries to warm my icy hands in his, it is hard to imagine the "bad lad", as described by Ben, who was in and out of trouble; stealing from shops and doing stints in remand centres.
Barber, who in the words of his school head teacher would "come to nothing", says he fell in to acting by chance in the 1970s and had he not, feels he would have been either working in Lewis' or on the dole.
"It came by accident, acting," he revealed. "I went to the Empire to support a friend. I didn't even know what the word audition was, and they asked me if I'd like to have a go. I got the part and my friend didn't but I turned it down, because of my friendship."
Luckily, his friend's mother talked some sense in to him. "His mother turned round to me and said 'he gets three meals a day with a loving family, you live two doors away in a bedsit eating porridge butties'. She shoved a shilling in my hand and told me to get back on the phone. I jumped on a train down to London and that was how my career started off."
As an Honorary Fellow of LJMU, Paul now has a strong connection to the University but it is his brother Ben who says he has the most to thank the institution for.
He told JMU Journalism: "John Moores helped me. I started my training as a social worker up the road here and it was John Moores who funded me then. Somebody was willing to back me. What I like about coming here is what John Moores is doing. It's making opportunities. It's getting youngsters, who wouldn't normally get a chance, into education."