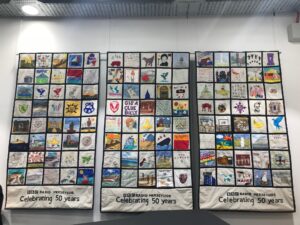 A broadcasting landmark has been marked in a colourful way, as a patchwork creation has been made to celebrate the 50th anniversary of BBC Radio Merseyside.
Helen Jones, the Religious Producer at the station, organised the creation of a banner to represent what Merseyside and the radio station means to its listeners.
The banner consists of 120 separate squares, which people across the region have sewn, stitched, knitted or embroidered.
On Tuesday, the completed product was unveiled as people from across the area who helped in the making of the patches, were invited to the radio station to view it.
YouTube: Suzy Sankey
Radio Merseyside was this week honoured with the Freedom of Liverpool to acknowledge its five-decade history, as was commercial rival Radio City, which has been operating for 43 years.
The banner project formed part of the 'Up for Arts' project, which encourages people to get involved in arts and crafts in all of its forms, as well as highlighting the work of the many related voluntary groups across Merseyside.
Pauline McAdam, Assistant Editor for Radio Merseyside, told JMU Journalism: "Because we've worked with Up for Arts for so long, we wanted that to be part of the 50th year. We had a discussion about how it could be great if the banner could be individual people's personal choice of what Merseyside meant to them.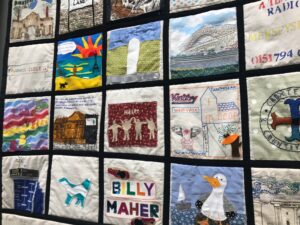 "Obviously the iconic ones have made an appearance, but it's so beautiful to see patches from right across the patch."
There are a variety of squares on the banner, ranging from tributes to certain past and present presenters, and tributes to the Merseybeat era.
Other squares acknowledge different areas of Merseyside, including the Iron Men at Crosby Beach, Birkenhead Priory in the Wirral, and Knowsley Safari Park.
Ms Jones told JMU Journalism: "The finished thing is better than I expected. Now it's all come together, it doesn't matter about the quality of the individual pieces, it's all about the people behind them. I met so many amazing crafters and watching it being made was really special."
The artwork will be hung inside the BBC Radio Merseyside station office on College Lane, Liverpool and will stay on display for an undetermined period.