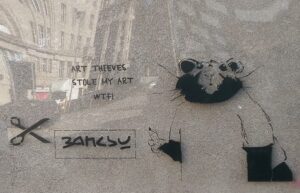 Street art lovers may have been fooled by a fake Banksy painting that appeared in Liverpool over the weekend.
The artwork, which is claimed to be by a Bristol-based street artist who works under the pseudonym John D'oh, appeared in place of Banksy's 'Love Plane', which was controversially removed form Fenwick Street by the Sincura Group.
Love Plane will be displayed in an upcoming art gallery at Berry House in Liverpool's Baltic Triangle.
D'oh's piece depicted a 'Banksy-style' rat holding a pencil next to the words: "Art thieves stole my art, WTF!" along with an image of Banksy's signature being removed by a cut and paste scissors symbol.
The Bristol-based artist also installed: "Caution – Banksy art thieves operating in this area" signs in the adjacent car park, mimicking similar signals warning drivers to be wary of thieves.
YouTube: The Secession
D'oh told JMU Journalism that he intended to fool people in to believing his work was a Banksy painting, saying: "My work has been mistaken for Banksy on a number of occasions and has been boarded up, protected, stolen and even valued, but when you step forward and claim it people are so disappointed.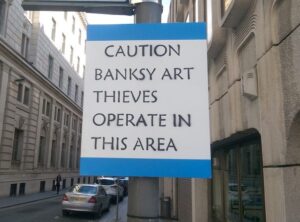 "It was intended to fool people into thinking it is an original Banksy and it's not the first time I have done it either. It just goes to show that you don't always know what you are buying."
The urban artist was critical of the Sincura Group and others that recover and repurpose street art for galleries and for sale to private collections.
D'oh said: "Personally I think it loses something if you take street art as you just can't envisage what the artist had to go to through to install or paint the piece, the walls he or she had to climb or the CCTV cameras that had to be avoided.
"Often the placement is as important as the art itself. By taking street art from the streets, what is it for?"