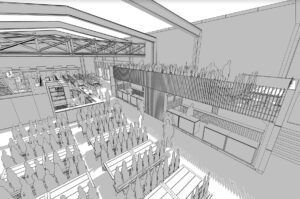 Organisers at the Baltic Market have announced plans to expand the popular destination by adding a new mezzanine.
The expansion, which is due to be finished in December, will provide additional seating along with what planners hope will be stunning views of the city.
Co-organiser and founder ,David Williams, told JMU Journalism: "We opened our doors four months ago and just before we opened we couldn't envisage ever filling it, but it's been very apparent we've needed more space since the first day. Don't get me wrong – it is a good problem to have.
"We had looked in to getting more space on the site but it was only when we looked up we realised we had so much space to play with. The mezzanine is not only going to provide us with over 100 extra seats but it also allows us to be creative."
YouTube: Tim Spencer Tanfield
The redevelopment will feature changing themes throughout the year, with Christmas being the first. It is described as "the best adult grotto ever" on the official Baltic Market Twitter account.
On the expansion, Mr Williams added: "It will be so good for when live bands are playing and it will just add an extra element to the venue.
"The future of the Baltic Market is hopefully bright. We have some amazing plans to build more space and get different traders in. The idea is for the space to constantly evolve but for it to always be about great food and drink, great people and great local businesses.
"To think we'd one day be sitting in our own street food market watching all these local businesses do well, I wouldn't have ever believed you. It is a humbling honour that motivates us to be the best every day."