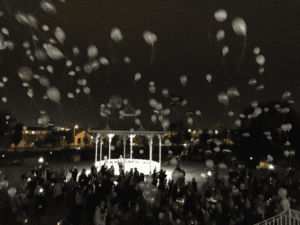 The skies of Liverpool were filled with balloons this weekend as over 300 families met at the Isla Gladstone Conservatory in Stanley Park to release tributes in memory of babies lost prematurely.
The event was organised by the Honeysuckle Team from the Liverpool Women's Hospital, who provide support for families who have suffered a loss.
The prominence of Liverpool Women's Hospital has risen since the very recent broadcast of new born babies reached millions of living rooms up and down the country, when they featured on the Channel 4 TV show, 'One Born Every Minute'.
Pregnancy and Infant Loss Month spans October to raise awareness about the issue.
According to Bliss, the infant loss charity, in England and Wales in 2014, over 54,000 babies were born prematurely. It's still a taboo subject but Liverpool Women's Hospital is supporting charities to endeavour to reduce the loss of lives and increase awareness.
Even those who have not been directly affected by loss have taken to social media to post photos of a lit candle to show their respects.
Dianne Brown, Director of Nursing and Midwifery at Liverpool Women's Hospital, said about the event: "You don't need to apologise to anyone for talking about the child that you've lost, you can simply talk and listen and keep the memory of your child alive with other people who want to do the same."
JMU Journalism spoke to Lisa Newhouse from charity 'Count The Kicks', which is one of the charities working closely with the Liverpool Women's Hospital. She said: 'We work to help women recognise the early signs of complications in pregnancy.
"We always support events that shine a light on the importance of neonatal issues and we think there is still more to be done in terms of research into why these deaths are still happening."