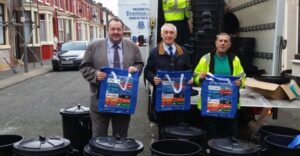 A pilot scheme in a North Liverpool ward has already seen encouraging results in the amount of waste that is being recycled.
The programme was launched in November and more than 1,500 terraced houses in the County ward have received new blue bags and black bins, resulting in a 20% rise in recycling in the area.
These households currently use black bags for their waste collection but the new blue bags come with guidance as to what materials can be recycled in them.
The small black bins have been provided to help store domestic rubbish that can't be recycled and are made to be kept outdoors.
The project in one area of County Ward was to trial this type of outdoor-use recycling bags in properties with four-foot alleyways, where waste was traditionally presented in black bags behind terraced houses. Four-foot alleys are notoriously difficult to collect separated waste from, due to the lack of storage space.
Councillor Laura Robertson-Collins, Chair for the Liverpool City Council Recycling Working group, told JMU Journalism: "In this trial the MRWA [Merseyside and Recycling Waste Authority] helped the council to fund the collection bags , and yes, the council will be looking to extend this type of scheme to other areas with four-foot alleys in Liverpool , if we can fund the collection bags elsewhere."
This pilot has proved that people will sort their waste even in such difficult areas for storage, if suitable receptacles can be provided.
Cllr Robertson-Collins continued: "As regards to County ward, we are hoping for a continuing rise in that recycling rate, but a 20% rise is a good start."
In addition to this there has also been an 11% increase in the quality of the materials presented for recycling, following an education campaign in the area explaining what waste can be accepted in the blue bags.
Starting on the March 23rd, 6,000 properties are about to start having a waste collection. This is something new being brought to the city centre. The bags are being funded by a special Department for Environment, Food and Rural Affairs grant to help councils get to these 'hard to reach' areas.