Locals with aspirations to get into the movie business were given encouraging advice about not needing to move to the capital to get their big break, during a BAFTA master class at Liverpool's FACT cinema.
Assistant director and film producer Dan Winch was there to discuss his route into the industry, as the close intimate setting drew people from all walks of life to hear his views and ask questions.
Winch, who is based in Manchester and made his name through regional dramas and films, told JMU Journalism: "I would say as there is always a perception that the media centre is in London. These days, especially in the last couple of years, it has almost gone the other way… almost certainly in financial terms.
"It's in a show's interest to bring on board a regional team. If they are seen to employ people from the regions it's in their favour. It's not a necessity to be in London at all."
Beverley Thomas, who is also a producer herself, told JMU Journalism she thought the night was "fantastic". She said "It was really worthwhile. I am actually based in Sheffield and I have been working all day, so I came down just for this and it was just great."
Throughout the master class, Winch gave tips about how important it is to get yourself out there.
He told JMU Journalism: "I never would have got my first opportunity if I hadn't worked for free on a short film in my Easter holiday. I would then never have met the people that gave me my break."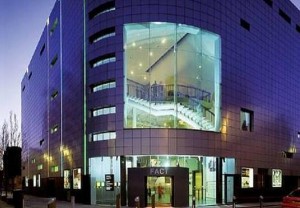 In a career spanning 15 years, doing everything from dramas to films, Dan line-produced ITV Studio's BAFTA-nominated UK/Australian co-production 'Mrs Biggs', as well as being producer of the newly-released 'What We Did on Our Holiday', starring Billy Connolly and David Tennant.
Winch admitted: "Being at the premiere the other night was my proudest moment."
To finish the night, Dan gave advice that anybody in any industry could take on. He expressed how important it is not to look down on a job role because being a runner taught him so much as he got to see every department and learn skills from each.
He added that it is important to be enthusiastic and want to learn new things and, if given the opportunity, try to learn technical terms, help out where you can, and just be part of the team.