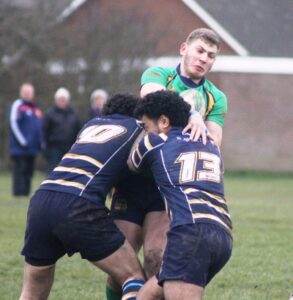 A Merseyside rugby team took to the pitch amidst an air of the South Pacific, with a third of their team being from Tonga.
Wirral-based Old Anselmian's fielded five 'Friendly Islanders' for their North West One division clash with Fleetwood and the international contingent made the difference as the team went on to win their first away game in nearly 18 months.
Old Anselmian's captain, Carl Hellier, explained to JMU Journalism why Loa Tupou, Mahe Pepa, Filini Mafi, Tane Ha'unga and debutant Paea Liku, who now all live in the Wirral, were so important to his side's endeavours.
He said: "They bring quality: pace and power, and tackling ability. Certainly, in defence and carrying the ball they're crucial. They pride themselves first and foremost on physicality and finesse second. Their grassroots at home is all based around that.
"There's a bit of the fear-factor for the opposition too: when you see five Tongans who are big and physical it can give you an edge, especially at our level."
Anselmian's actually have six of the South Pacific Islanders on the books, with Paea Liku's brother Tevita currently nursing an injury that keeps him out of the side.
Carl, 30, said: "It's got nothing to do with money as some people think, because there used to be a bit of a sarcastic swipe at the Tongans that they're a bit mercenary and move around for money, but none of them are getting paid by us. We don't pay anyone here."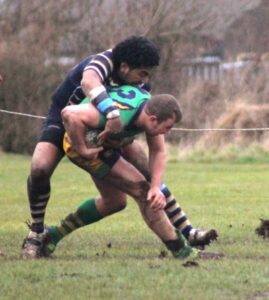 The back row forward also described how the going is not always easy for a lower level rugby team to find not only the quality, but also the sheer numbers to compete.
He said: "Annie's struggle, as I'm sure a lot of clubs do, with strength in depth. The hardest thing about the youth set up is to do with players being picked off to play for better clubs."
The Anselmian's captain added that university can have an effect on bringing younger players through too, with many potential first-teamers packing their bags and moving away at the age of 18.
Former Ireland International and first team coach, Simon Mason, explained to JMU Journalism how the international flavour of the team came about.
"Initially our Tongan link was through Mahe Pepa, then Loa Tupou joined us as forwards coach in 2009 and he was a real focal point for us. Loa epitomises the Tongan virtues of good humour and courage whilst big tackling is ingrained in their rugby culture."
Mr Mason went on to echo his captain's sentiments of the hardships of lower level rugby, but takes many positives.
He said: "It has been a huge challenge to see the club get to, and then try to sustain, rugby at this level, but in adversity you see the real character and integrity of people in and around the group."