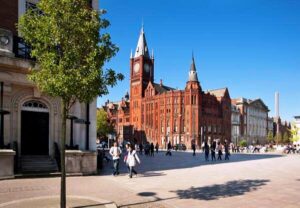 An app which helps students identify available PCs on campus using their smartphones has won an international award.
The PC Finder app, developed and designed by Computing Services at the University of Liverpool, was awarded first prize in the enterprise mobility category of the 2014 Intranet Innovations Awards.
The awards, run by Step Two Designs, commend digital services that are designed for internal use by organisations.
One of the creators of the app, Paul Hagan, said that he was always confident it would be a hit.
He told JMU Journalism: "I was obviously very happy to win, although credit goes to the whole team – Wes Holmes, Matt Smith, Mike Sandells and myself – as it was a joint effort.
"We're lucky to have a really supportive environment here in the Computing Services department, so if you do good work you're always made to feel appreciated – but there's something extra special about external validation."
The app was created after students commented that they were struggling to find PCs on campus, especially during busy times such as exam periods.
It uses GPS location services to show PC availability in centres close by and lists them either by how close they are to the user or in alphabetical order.
The app is also web-native rather than iOS or Android, meaning it will run on any device that can connect to the internet regardless of screen size.
Sam Marshall, who runs ClearBox Consulting, was one of the judges of the awards and said that, personally, he could see the app being successful in nearly all universities.
He told JMU Journalism: "There's enormous untapped potential for enterprise mobile applications, so it was really encouraging to see this dedicated app entry, rather than a desktop design that is merely 'mobile-friendly'.
"What I like is the knock-on benefit that library staff are freed up too because they no longer have to escort students to other buildings. It also encourages students to use facilities beyond their own department, as subtle shift that benefits both students and the University."