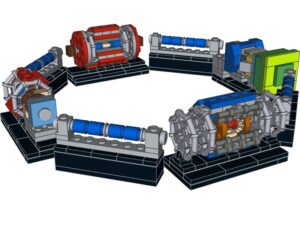 A University of Liverpool student has started an online vote to try and get his miniature Lego design of the Large Hadron Collider officially made by the company.
Nathan Readioff is a PhD student with the university and is currently based at CERN headquarters in Switzerland, home to the real life atom-smasher.
The third-year student built replicas of the four main detectors that make up the Large Hadron Collider, first using Lego's digital designer software and then assembling the models by hand.
The 24-year-old said he was inspired by a 10,000 piece Lego model built by Sascha Mehlhase, which sits outside the ATLAS detector control room at CERN.
He told JMU Journalism: "It was a perfect fusion of my two great passions for Lego and particle physics. I still keep tinkering with them. Even as late as a fortnight ago, LHCb was being given a last minute tweak to help build a more robust version."
Mr Readioff's model is built as a series of standalone miniatures of all four detectors which make up the Large Hadron Collider, each taking him up to 40 hours to design.
He has submitted his plans to the Lego ideas proposal website and, if it gets 10,000 votes from the general public, it will be considered by the company for commercial use.
Already the idea has over 2,500 supporters and still has 359 days left to reach its goal.
Mr Readioff added: "If I'm being honest, I'm amazed and overwhelmed that so many people are interested in the project and would like to see a model of the LHC available.
"I've learnt loads about how the other detectors have been designed and constructed, and now I'm trying to pass that on to others."
The Large Hadron Collider is buried in a 17 mile concrete-lined tunnel below the French and Geneva countryside. It is the largest and most powerful particle accelerator in the world.