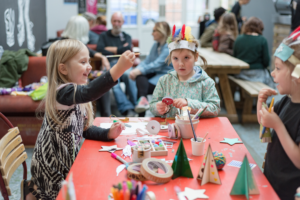 Children are being urged to bring their creativity out of hibernation this winter with the launch of a winter arts festival.
'Square Pegs FESTIVal' will bring a host of local artists to the Baltic Triangle's Constellations on Saturday December 12th, hoping to deliver successful Christmas-inspired workshops and activities for children aged 2-12.
The event has been organised by creative collaboration, Square Pegs, which aims to cover all artistic preferences, from crafts to dramatic performances.
The Pegs, as the group is otherwise known, was founded by teacher and mum of two, Emma Jenkins, who wants to inspire young minds by introducing them to different art forms.
Ms Jenkins told JMU Journalism: "The reason we started this was I felt as a mum that we want to do creative things with our kids, but either don't have the time or expertise.
"We're giving children the opportunity to do something they might not do in school and that is going to challenge them in a new way and focus their energy on arts, which is something I feel really strongly about."
This is the second festival organised by The Pegs, as they hosted a similar, summer-themed carnival earlier in the year.
Emma added: "We got a great reaction on the run up to [the summer] event. The reaction has been good this time particularly because it's Christmas.
"There's so much going on for children and we want to get parents away from going to see Father Christmas. Although there's a lot of competition at this time of year, the response has been great because we're offering something totally unique and good value for money."
Local artist and sculptor, Kate Bufton, will be running workshops over the course of the day. One in particular will show children how to turn unloved books into artwork.
The organisers have specifically avoided a typical Santa's Grotto theme and instead opted for a winter wonderland. Inspired by Narnia, children can follow clues to a woodland trail and have the opportunity to peg their Christmas wish to the tree.
Parents have not been neglected at the event, as mulled wine will be on offer while their children enjoy festive treats from local bakeries.
Adult entry is free, but tickets for children attending the event can be found here.