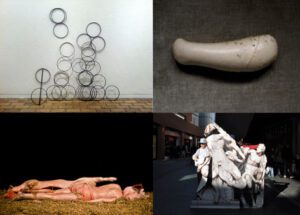 A new city centre home has been announced for the Liverpool Art Prize exhibition.
The Liverpool Art Prize is a competition of contemporary art, which was inspired by the Turner Prize coming to Liverpool during the Capital of Culture year in 2008.
The exhibition of the annual prize has been held at Metal at Edge Hill Station for the past three years.
However, this year it will have a new home in the Grand Hall at the Albert Dock, which is celebrating the 25th anniversary of its official re-opening.
Graham Cook, Director of the Albert Dock Company, said: "The Albert Dock Company is delighted to offer the Grand Hall for use by the Liverpool Art Prize.
"We are always interested in partnering with arts initiatives and the Liverpool Art Prize is such a firm fixture on the city's calendar we couldn't refuse."
 The shortlist includes local artists Kevin Hunt, Tabitha Moses, Juliann O'Malley and Laurence Payot, and will be judged by a highly qualified panel of judges comprising of the director of Liverpool Biennial, the arts editor of the Liverpool Post and artists, including Robyn Woolston, who won last year's prize.
 The winner will be revealed at an awards ceremony on Wednesday 29th May, and will receive £2,000 and an exhibition at the Walker Art Gallery.
It is hoped that the move will attract a larger number of visitors to the exhibition.
Jenny Porter, Project Manager of the exhibition, told JMU Journalism: "There is a greater average footfall, and a wide range of visitors both local, national and international.
"We think its proximity to the Tate will also attract audiences who are visiting there anyway."
She hoped that the opportunity to build on the success of the Art Prize at a location where the average footfall is much larger, with a wider variety of visitors both locally and internationally, would result in more people getting to see the work of the shortlisted artists.