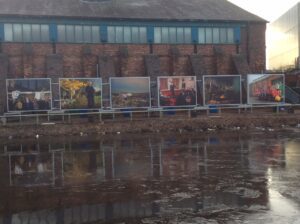 A new public art installation has opened in St Helens, alongside the Sankey Canal.
'Where Things Are Different' delves into the industrial history of the town, using six large-scale light boxes.
The work has been commissioned by Heart of Glass, an agency for collaborative and social arts practice based in St Helens.
Photographer Stephen King has joined forces with locals, workers and former employees to delve into the borough's history.
The art installation comes as a part of the 150th anniversary of the town, as it was granted its Royal Charter by Queen Victoria in 1868.
It is well-known for its glass manufacturing history, with Pilkington's, St Helens World of Glass, museum and glass blowing centre, which is situated on the opposite side of the Sankey Canal.
The photographs used in the project all attempt to reflect local post-industrial communities, as King attempts to portray the memories and experiences of people which aren't otherwise documented or remembered anywhere else.
YouTube: Suzy Sankey
Mr King said: "I wanted to undertake a collaborative project in St Helens, and obviously there are many issues that I could look at in the borough, but the more I thought about what was the one thing that draws together differing communities. That was the town's workforces."
Locals seem to have given their full support to the project as tickets to its unveiling sold out last week. Guests were greeted with live music, food and drink before having the opportunity to view the light boxes for the first time.
Local Edna Thompson, 72, from St Helens told JMU Journalism: "I'm delighted with them. It's good to know that although we may be a small town, we're not forgotten about. People have beautiful memories here, and now everyone else can see them too."
The project will be lit from 3pm – 9pm each day until April 22nd.