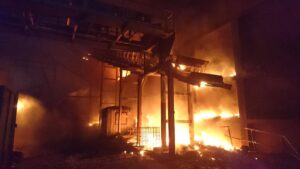 After three days of watching in horror at the latest dockland fire to hit Bootle, the site's owners have revealed that they suspect an arson attack may have been the cause.
In the early hours of Saturday morning, the third blaze in six months broke out at the European Metal Recycling facility on Alexandra Dock.
Firefighters struggled to bring the inferno under control, and at times temperatures soared over 600 degrees celsius, prompting Merseyside Fire and Rescue Service has to use specialist equipment to protect themselves.
As of Monday morning, the fire was still raging despite being cut down from an area spanning 200 metres to just 15 metres. It was eventually extinguished just after midnight on Monday, and now investigations will begin to find out the reason behind this latest blaze.
YouTube: Paul Frost
A spokesperson for European Metal Recycling said: "The cause of the fire is yet unknown and we are working with the Fire Service and other bodies to understand the root cause.
"We are concerned that the timing of the event is similar to previous fires at the site and believe arson could be the cause."
"We take such instances very seriously and, since the last fire, we have engaged the services of an experienced ex-fire chief to help us understand the causes of these fires and how we can prevent them happening.
"While we investigate the cause, we would like to apologise to the local community and businesses for the inconvenience this incident has caused and would like to reassure them that we take our environmental, health and safety responsibilities very seriously."
This is the second time a fire at the site has been treated as a possibly suspicious event. Following a similar fire at the site in October, both the Fire Service and EMR undertook an investigation into a possible arson attack.