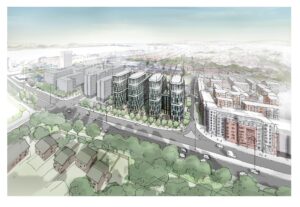 Plans have been submitted to Liverpool City Council for four new linked apartment blocks in Vauxhall.
The proposals are a joint application by Vinco Group and John Sutch Cranes, and if plans go ahead, 656 flats will be constructed on 9-27 Freemasons Row.
The address was formerly inhabited by John Sutch Cranes, and before the firm moved to new offices in Bootle it used the site as its base of operations. The buildings are currently used to store their equipment.
Mark Jones, who works at John Sutch Cranes, told JMU Journalism: "We've sold it and that's it. It's basically going to be apartments and high rise buildings. It's been in the pipeline for couple of years."
The blocks will range from 11 to 15 storeys high and the ground floor will be dedicated to commercial space including bars, restaurants, shops, offices and leisure facilities.
Out of the 656 flats, it is said 358 will be one-bed apartments, 260 two-bed, with 40 studios and six townhouses.
An on-site gym and landscaping are also planned. Subject to planning permission, Vinco hopes to start work on the site in late 2017.
The Speke-based company was established in 2014 and recently had plans for apartments in Aigburth approved by the council.
Glyn Thomas, Managing Director at Vinco, said: "While there's a lot of properties for rent coming out of the ground at the moment there's less for sale. We're hoping this scheme can meet the needs of those looking to buy their first home or people working in the city who want to live within easy walking distance in a quality new build.
YouTube: Old Vauxhall photos – Ed Words
https://www.youtube.com/watch?v=1iG-UgbJEHM
"The sheer scale of this development and the flexibility afforded by the fact it's a new build and on a substantial plot means there's a wide range of unit types to meet the needs of a variety of purchases from first time buyers and investors to families."
Falconer Chester Hall are the architects who will design the proposed buildings. They are also working on the current revamp of Wolstenholme Square.
Despite the corporate buzz around the new buildings, Pauline Keating, who lives locally, said: "Honestly, I'm worried about the number of flats being built in the area. The traffic is already building up in the city and it feels like new flats are just going to make it worse."
Liverpool City Council has not yet set a date to consider the apartment plans.