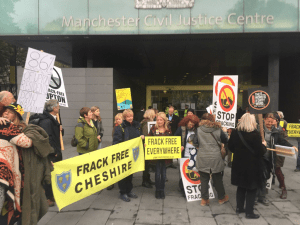 A protest group has been told to move on from its base after losing a court battle over its future.
The Upton Community Protection Camp has been ordered to pack up and leave the area after 18 months.
The anti-fracking camp was established in April 2014 and is based off Dutton's Lane in Upton, Cheshire. The area that has been marked by IGas, an oil and gas developer, as a coal bed methane site.
Fracking is the slang term for hydraulic fracturing. The process involves building wells to pump full of water, sand and other chemicals in order to expand existing cracks which allow oils and natural gas to escape.
The eviction notice was served to the Upton camp after their Manchester Crown Court appearance on November 6th. Eviction has now been set for December 4th.
An entire community has been built in and around this camp. Upton Community Camp's lawyers argued in court that the children living at the camp should be a serious cause for consideration when deciding the future of the camp. This argument was met by IGas stating that a protest camp is 'no place for a child to live.'
It was believed that the camp and the landowners, Tim and Peers Dutton, had a previously implied agreement that the campaigners could use the land, but IGas stated the camp's presence was merely 'tolerated' by them, and not encouraged.
Many 'Frack Free' campaign groups have been created to discourage the use of fracking. Frack Free Dee is a group based around the River Dee catchment in Cheshire, Wirral, North East Wales and North Shropshire and Frack Free Upton is a campaign group specific to the area where the camp is located.
Philip Coombe, an Upton resident and anti-fracking campaigner, said: "The democratic process regarding planning permission has failed us locally. The community group at Dutton's farm is our last hope of protecting the status quo.
"No gas company has a social licence to drill here at Upton, with some homes as close as 200m to the drill site, 8 schools of 3,200 pupils, 4 care homes with over 100 residents, Chester Zoo is only 750m from the site; a world centre for conservation and bio diversity with 12,000 animals and 400 different species half of which are endangered."
A survey conducted by Frack Free Upton over the past 15 months, shows that out of 2,800 residents asked, 85% do not want any fracking activities taking place on their doorstep.