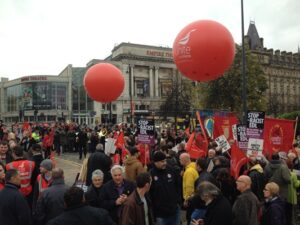 Thousands gathered in Liverpool on Saturday in a 'march against fascism'; a demonstration designed to celebrate multiculturalism in Britain and attempt to prevent BNP leader Nick Griffin from being re-elected to the European Parliament in 2014.
Approximately 5,000 protesters took to the streets and despite concerns that far-right activists could disrupt proceedings, the rally passed peacefully.
The event, led by trade unions and anti-racism groups, began on William Brown Street at noon and culminated at the Pier Head, with talks from Liverpool Mayor Joe Anderson, Unite General Secretary Len McCluskey, and many others.
Mayor Anderson's message was clear. He said: "United and together we can defeat the fascists." The first directly elected mayor of Liverpool spoke of his pride that his city was hosting the rally aimed at celebrating diversity across Britain.
He told JMU Journalism: "It's important to Liverpool and it's important to people across the whole country I'm proud it's here in Liverpool.
"We've got to stand up and articulate the case that being together and being united is something that we should all try to do because it's the right thing to do."
Nick Griffin, BNP leader and MEP for the North West, won in the last European elections in 2009 with just over 8% of the vote, with general voter apathy being blamed for the result.
Mayor Anderson stressed the importance of ensuring [Nick] Griffin does not retain his seat in European Parliament next year. He said: "I think he was allowed to get in because we became fractured. That's why today is the start in a campaign to make sure the likes of Griffin isn't re-elected."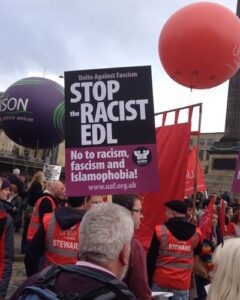 This viewpoint was shared by Deputy Chair of Labour North West and European Parliamentary candidate for 2014, Theresa Griffin. She told JMU Journalism: "One of Liverpool's strengths is that it is a multicultural city. At the moment we have the BNP representing Liverpool and the North West region in the European Parliament. This has got to stop."
Ms Griffin was also keen to point out the role that young demonstrators at the rally had to play in the fight against fascism. She said: "By young people talking to other young people, we can actually make sure that the BNP has no room, has no voice in the North West. Young people are critical to that message."
Len McCluskey addressed the Leader of the Labour Party Ed Miliband in his speech at the Pier Head, with the key theme of his message being the need for "courage".
He said: "The Labour party in government has to have the courage to build a million new homes, has to have the courage to massively increase the minimum wage towards the living wage. If Miliband and the Labour leadership are courageous enough, then they will win the next election."
Additional reporting by Nathan Potter & Chris Cunningham, JMU Journalism TV