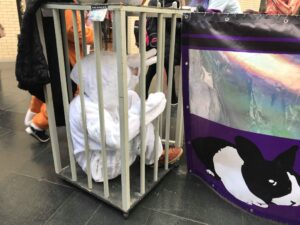 Campaigners planted themselves outside the doors of a Liverpool One store to protest over the sale of fur products.
Organisers of the demonstration from Merseyside Animal Rights say this was to educate the public on the selling of real fur for fashion purposes.
They claim it was also to show the shop in question, Flannels, that there are members of the public who are not happy with their selling of animal fur products, such as those found in the Canada Goose coat.
The group of passionate activists, some dressed up in animal suits, were 'trapped' in cages and used chalk to write messages to the public on the ground.
Since 2013, the campaign 'Boycott Flannels' has been growing in popularity and hosting demonstrations across the UK. Some of its popular winter coats have a hood lined with coyote fur.
Twitter: Orlaith Clinton
Members of Merseyside Animal Rights told me why they are outside @flannelsfashion today. They branded the wearing of animal fur for fashion as "cruel." @JMUJournalism pic.twitter.com/U0OzhKcUTd

— Orlaith Clinton (@ClintonOrlaith) 2 December 2018
The Toronto-based firm, Canada Goose, has released a 'Fur and Down policy', which reads: "Our standards for the sourcing and use of fur, down and wool reflect our commitment that materials are sourced from animals that are not subject to wilful mistreatment or undue harm."
A spokesman for Merseyside Animal Rights told JMU Journalism: "We are here together to stand up against places like Flannels who are continuing to sell fur. Fur is dead animals and it is being used for fashion. There is absolutely no reason why we should be wearing fur today apart from people thinking that it looks ok and nice. It is cruel.
"Fur did die out a few years ago, but with these Hollywood stars wearing fur again our young generation are starting to copy them and wear fur too. That is why there is a market for it and why the likes of Flannels are selling it.
The group's mission was to make the public, especially the younger generation, more aware of what they are wearing.
Leaflets and stickers were passed out to the public yesterday, with information on how to spot real fur from faux fur.
Staff at the store refused to comment on the protest. JMU Journalism has approached Flannels' head office for its reaction, but we are yet to receive a response.
Twitter: Orlaith Clinton
Merseyside Animal Rights are currently protesting outside @flannelsfashion against their stocking and selling of clothes which contain animal fur, such as the Canadian Goose jacket. @JMUJournalism pic.twitter.com/fOIjETm0Jt

— Orlaith Clinton (@ClintonOrlaith) 2 December 2018
"One fur trim is one dead dog." Protesters show their passion for this cause. They put some blame on celebrities who are wearing animal fur, and being copied by the younger generation. @JMUJournalism pic.twitter.com/SlIfp3pKEv

— Orlaith Clinton (@ClintonOrlaith) December 2, 2018