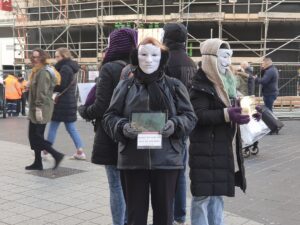 An 'Earthling's Experience' was staged in Liverpool's city centre yesterday to try to encourage a more positive view of veganism.
Team Tino, an animal rights group, took to Church Street wearing Guy Fawkes masks and holding screens displaying the documentary 'Earthlings'.
The film highlights the experiences of animals at factory farms, research labs and more.
Bryn Pritchard, member of Team Tino, told JMU Journalism: "As a human race we abuse animals across the whole spectrum.
"We don't need to do that so we want to bring it to people's attention how much of a horror show life is for most animals on the earth."
The activists wore masks in order to remain anonymous. Mr Pritchard said: "The person stood there is not the important message. The message is what is being displayed on the screen."
The animal rights activists also highlighted the positive impacts a plant-based diet has for the planet and the human race.
YouTube: Scarlett O'Toole
Mark Jackson, a representative of Liverpool Friends of the Earth, told JMU Journalism: "Current farming is intensive and uses high levels of chemicals against pests. This leaves us with poor and polluted soils."
He added: "The pesticides don't discriminate and kill lots of insects and bees, the natural pollinators."
The demonstration received mixed responses from members of the public. Some engaged with the activists and asked questions about the possible impacts of becoming vegan.
However, Mr Pritchard said: "We've had the usual jokers who say they've just had a bacon butty and it was lovely."