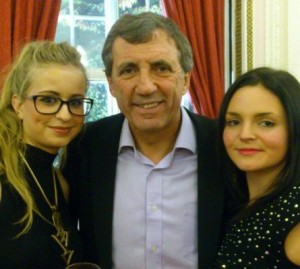 Liverpool FC legend Alan Kennedy was renowned as a man with the ability to score vital goals, and he let us in on a bit of the club's history in an exclusive interview with JMU Journalism.
Kop favourite Alan Kennedy has revealed his thoughts about the current situation at Liverpool and Everton, his glory days and how it felt putting on the red shirt.
The Sunderland-born Liverpool legend, 58, played for Newcastle United between 1972-1978 before signing for Liverpool FC for £330,000 in 1978 and stayed until 1985.
Playing his trade at left back, Kennedy was a part of Liverpool's gloriously successful period when they dominated the football landscape, scoring decisive goals in two European Cup finals.
He told JMU Journalism: "I was part of that fantastic era and we won lots of trophies but we just wanted to play football the way it should be played and that was the key to it.
"We didn't need any reminding that we're playing for Liverpool Football Club."
During his time at Liverpool FC, the club won four League Championships, four League Cups, two European Cups and three Charity Shields.
Kennedy is most remembered for the goals he scored in Cup finals – famously, he netted the deciding strikes against Real Madrid in 1981 and Roma in 1984 which sealed Liverpool's third and fourth European Cup triumphs.
He said: "I was lucky to be a part of a successful team. It wasn't about the money side of, it was about the trophies. We set out to win every game. If we did that then all well and good, we've done our job as they say."
Liverpool FC are currently mid-table in the Barclays Premier League and Kennedy thinks the only way is up as a result of the new manager Brendan Rogers.
He said: "I'm pleased that we've got Brendan Rogers in there. I think Brendan's credentials are very good. He's made all the right moves in terms of getting the players to play a system that he wants to play.
"I think the player that's most benefited from that is Luis Suarez. I think Suarez has done exceptionally well. If there is going to be a problem it will be; who else is going to score the goals? I think the manager will be looking at probably another goal scorer if they can get one.
"It would be hard to read Brendan Rogers because I think he keeps things close to his chest and he probably deals in the younger types of players. I think there will be two or three in the pipeline that only Brendan will know about."
Kennedy agrees thatrivals and neighbours, Everton Football Club, are currently performing better than Liverpool.
He said: "Everton are doing very, very well. I think David Moyes said at the beginning of the season they want to start strongly, they want to hopefully challenge the top four and that's certainly what he's doing.
"They've probably drawn too many games but they had a great start to the season. They were scoring goals freely and it wasn't just one player scoring, it was four or five players scoring."
Kennedy currently appears on Sky Sports to talk about how Liverpool is doing and is working alongside the football club doing the 'Ultimate Anfield Experience', which involves him coaching and playing football.
He said today's game is very different to how it used to be and that the Premier League is now more of a business than what it was when he played.
He said: "Players just went out to play. They didn't need much coaching they just went out and played and they played to the best of their ability and the way the game should be played, with a bit of openness about it but nowadays there are rules and regulations."
Kennedy believes football is much more difficult game today because the players are under so much scrutiny.
He said: "Everybody wants to analyse what they're doing and how they're doing things. Certainly we had a lot more freedom in our day which was good for us."
Of his favourite memory at the club, Kennedy said: "Just putting on the red shirt. To be fair that's all I wanted to do, just put on the red shirt. I just loved it. I just loved playing.
"Every time I went out there with a red shirt on I just loved it. It was a case of you're just accepting you're in a very, very good team with a very good squad."
Kennedy retired from football at the age of 40. He said: "It's nice to be remembered but it's a younger man's sport, a younger man's game."
Additional reporting by Sara Ainsworth.