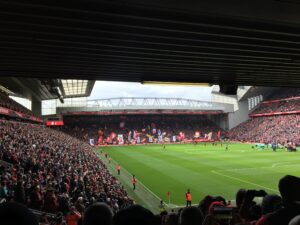 Anfield has always been famous for its European nights. Matches such as St Etienne in 1977, the Chelsea semi-final in 2005, and of course the 4-0 victory against Barcelona in 2019 that took the Reds to Madrid where they lifted the European Cup for a sixth time, have given Liverpool's home iconic status.
This week however, Anfield fell silent on a European night for the first time in the club's history as Covid-19 restrictions continue to keep fans away.
Getting used to this new version of football has been a hard adjustment for supporters since the country went into lockdown in March, with Reds fans resigned to watching their team lift a first league title in 30 years from a TV screen.
John Gibbons, 38, Liverpool fan and writer for the Fan Website 'The Anfield Wrap', is one of the thousands who would have been in attendance at Tuesday's Champions League tie against Danish side FC Midtjylland. He said it has been difficult to miss out on seeing his team live in recent months:
"It feels like a party that isn't there."
Gibbons' work at The Anfield Wrap focuses on bringing the 'matchday experience' to fans around the world. This has had to change during lockdown.
He said: "So much of what we do is telling the story of supporting Liverpool. For people who aren't (at Anfield) we hopefully make them feel like they are. We do our post-match content from the pubs outside the ground. People like the energy.
"Obviously, we haven't got that now. We have been doing alternative commentary to Liverpool games via an app called 'Hot Mic'. To be honest we've been doing it as much for ourselves as for the listener because we enjoy it."
Fan groups across the country have been taking advantage of similar systems through lockdown. Apps such as Zoom and Skype have suddenly became an integral part of the matchday experience.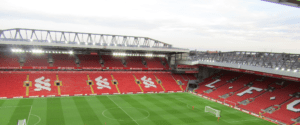 October had been earmarked for a limited number of fans to return to stadiums in England. However, much like in July when trial events to safely return spectators to sporting events were cancelled, the government once again pulled the plug due to a rise of coronavirus infections.
A number of Premier League clubs including Manchester United have this week spoken out to say they are ready for the safe return of spectators. Gibbons believes that more can be done to get people back to live games: "The clubs have tried really hard to put measures in place," he said.
"I think they should be given a chance to prove that they can work. There doesn't seem to be any rhyme or reason between why certain things are allowed people back, but others aren't."
Although supporters may not be singing from the stands for the time being, fan power has not been silenced. The Premier League's controversial decision to begin charging £14.95 for a number of games has been strongly resisted by fan groups. Many supporters have chosen to donate to local foodbanks instead of paying the additional subscription fee to watch their team. In an era where many people already feel detached from the game, this has created a unified front for fans of Premier League sides.
Said Gibbons: "Supporters need to remember that we are stronger together on these issues and it's very rare that supporters from all clubs unite behind a common cause.
"It's a shame really because if we do get a result it would hopefully prove that unity is strength on these issues and that some things are more important than club rivalry."