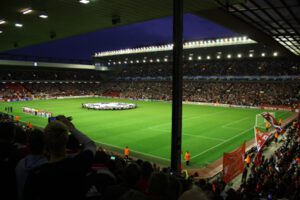 Nearly a million foreign tourists watched a game of football in England last year, and Liverpool FC is second only to Manchester United in attracting the most.
According to new figures from VisitBritain, the 900,000 football tourists who visited in 2011 spent £706 million on their trips to England. That is the equivalent of £785 per fan and £200 more than the average visitor (£583).
Most of the tourists were from Ireland, Norway, USA, Spain and Germany, and it's the clubs in the North West which attract the largest number of fans.
Nearly 20% travelled to watch Manchester United at Old Trafford, with Liverpool at Anfield finishing in second place.
Minister for Sport and Tourism Hugh Robertson told VisitBritain: "The Premier League is one of this country's most successful exports and known the world over.
"It is no surprise that it has become a big draw for tourists who want to experience the most exciting league in the world in person."
Tore Hansen is the leader of Liverpool FC Scandinavian Branch, and he told JMU Journalism: "The tradition of English football on television since 1969 and good relations with Great Britain are some of the reasons for so many Norwegians traveling to England.
"Manchester United and Liverpool have by far the most members in the supporters clubs [in Norway], and both have around 40,000 members. Arsenal is third with 6,000, so I'm not surprised that Old Trafford and Anfield attract most visitors."