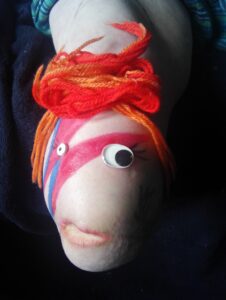 A Merseyside-born amputee has made a career from using her stump to impersonate celebrities.
When Jackie Hagan had her leg amputated 18 months ago due to blood clots she decided to embrace life as an amputee in a very unusual fashion – by decorating her stump with the faces of well-known celebrities!
The rainbow-haired performer, who is currently touring the UK with her one-woman comedy show 'Some People Have Too Many Legs', has never been one to shy away from her disability.
Hagan told JMU Journalism: "I decorated my false leg with sequins and glitter and buttons and rubbish off the bedroom floor just because that's what I've always done with things that look boring."
The Hulk, Margaret Thatcher, Marilyn Monroe and the man from the 'Go Compare' advert are just a few names that often find themselves at the butt of Jackie's jokes.
She spoke candidly to JMU Journalism about the moment she first saw her leg after it had been amputated and why people should not be sensitive about issues of disability.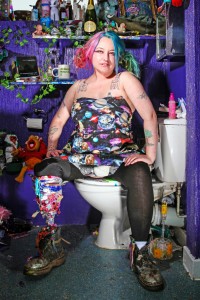 "When it finally healed I was made-up and I even said to the nurse said: 'Do you want to look at it?' I was prepared for the weirdness of it being a stump but what I wasn't prepared for was that it had what looked like a mouth on it!" she said.
"You know the blonde one out of 'Birds of a Feather'? It looked like her miserable gob."
Jackie's attitude about living with a disability is remarkably refreshing.
She added: "I rocked I rocked up to A+E with a white toe and stayed in that hospital for 4 months and when I left I had one less leg and loads more maturity!"
"You only seem to see disabled people who have 'overcome all the odds' and so can be used as inspiration porn – people who have climbed a mountain with no legs.
"Not all of us want to be Paralympians! We just want to carry on. That's not brave, it's necessary."
She continues to tour the UK with her comedy show until the end of May.