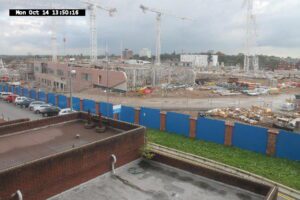 Alder Hey Children's Hospital has launched a new appeal to raise £30m for a new building.
Scheduled to open in 2015 the new hospital building, 'Alder Hey in the Park', is being "designed through the eyes of a child". The emphasis for the entire project, named 'The Land of Remarkable People', is focused firmly on the needs of the patients that will be using the facilities.
Alder Hey listened to what children had to say by undertaking one of the NHS's biggest public consultations, with thousands of families putting their ideas across for the new hospital and the final design for the building was inspired by a drawing from a 15-year-old girl.
The main ideas that came from the consultation included more nature and access to fresh air, which is why the new design will feature more natural light within the building and outdoor nature play areas.
The hospital is a centre of excellence and amongst the conditions they specialise in treating are; cancer, brain heart and spinal conditions, epilepsy and muscular dystrophy.
JMU Journalism Radio: Leanne Bates talks to Claire White at Alder Hey
The project, estimated to cost £237m, will be the first of its kind in Europe and will see robots administer medicine to the patients.
Due to the recent cuts to NHS services, Alder Hey still need to raise an extra £30m to add their own personal touches to the new centre that will make them stand out from the rest; personalised bedrooms, dance and creative workshops and bedside technology systems for patients and their families. An extra £20m also needs to be raised for research development.
Chairman of Alder Hey Children's Charity, Professor Michael Brown spoke of why funding is so vital. He said: "An ordinary hospital is not enough. We need to give our children the best support that we possibly can. We want our new
facility to be truly remarkable, a world class hospital that children and young people across the UK deserve."
Building work for Alder Hey in the Park has already started in Springfield Park next to the current hospital in West Derby and once work is completed, the 100-year-old building will be demolished and the green area that will become available will be given back to the community.