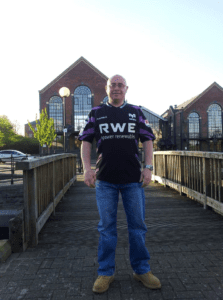 Welshman David Parry will walk from his home town to Liverpool over nine days to raise awareness of  mental health problems.
David will walk up to 20 miles a day – only stopping to hand out leaflets about mental health and to rest in a hotel overnight. He is hoping to raise £5,000 for mental health charity Mind.
David suffered a breakdown in 2010 and felt he didn't have anybody to talk to. He was only able to speak out after being referred to the mental health team.
David still suffers from post-traumatic stress disorder due to mental and physical abuse he suffered as a child and hopes that by doing his walk he can help end the stigma around mental health issues – which affect as many as 1 in 4 people – and to encourage others not to suffer in silence.
He told JMU Journalism:"I admitted that I had a problem and now I feel like I would like to put something back in to the community after the help that I've had.
"I chose to walk to Liverpool because I had a friend Samantha who is from there and she too had a breakdown and when you are low there's a song that reminds you of Liverpool and that's you'll never walk alone."
Entrepreneur Sean Smith has donated £1,000 which will kit David out with warm clothing and walking boots.
Sean said: "David is an inspirational person, who, like myself, has had major challenges to overcome and is a shining light to those who are in dire need of help."
But £250 still needs to be raised for food, water and a hotel room for the night. To pledge money to David's cause visit the Lighter Mind website.
The walk takes place in March.