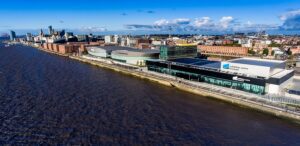 ACC Liverpool has named as the Best UK Conference Centre at an industry awards for the fifth consecutive year.
The multi-purpose venue, which also houses the 11,000-seat Echo Arena and the BT Convention Centre, received the M&IT Awards accolade on Saturday night with over 1,200 guests in attendance.
The ceremony, held at Battersea Evolution, London, celebrates the best international venues, destinations and suppliers in the events industry, as voted for by meeting professionals.
Bob Prattey, chief executive of the ACC Liverpool Group said: "We are honoured to receive this award for the fifth year running. This is considered the top accolade in our events industry so it is a great vote of confidence that our clients consider our venue the best in the UK."
This year's recognition follows a run of rapid progression for the ACC Liverpool Group, with the venue generating £1.2bn in economic benefit for the local community.
Vimeo: M&IT Awards 2016
The ACC Group has continued to expand following the new exhibition centre's opening in September, increasing the event space from 7,125 sqm to 15225 sqm as they aim to sustain the economic growth they have produced since their opening in 2008.
A series of high-profile events, such as the return of the Labour Party Conference for a second time, marked a prestigious year for the venue.
Mr Prattey added: "We would like to thank the city for its continued support. We look forward to another year of large, high profile, national and international conferences such as Global Greens and NHS Confederation, as well as the return of BBC Worldwide Showcase next February."