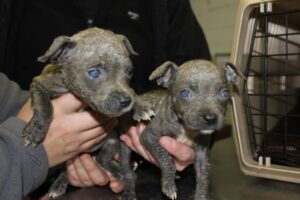 Two abandoned puppies have been found in a Merseyside park, after having been doused in a chemical.
The two Staffordshire Bull Terriers, who both have a very bad skin condition and severely ulcerated eyes, had been left in a park in Bootle, and given to Freshfields Animal Rescue, from a vet in Crosby.
After seeing an onsite vet yesterday, the two 4-6 week old dogs were immediately referred to an ophthalmic specialist, who confirmed that he believed they had some sort of chemical spilt on them.
The ulceration of the eyes, as a result, is so bad that one, Matilda, is blind and the other, Maggie, desperately needs an operation to try to save her sight. The operation will take place today at a cost to the rescue of £2000.
Freshfields said: "We cannot begin to express all that we feel concerning the mistreatment and abandonment of these two innocent little creatures."
Staff at the animal rescue are appealing to the public to make a donation to the puppies' care. 
More information can be found at www.freshfieldsrescue.org.uk.