North West band The Ragamuffins have released a song about new Liverpool signing Thiago Alcantara in aid of Fans Supporting Foodbanks.
The song 'Thiago' will enable Reds fans to celebrate the cultured Spain international while raising funds for the foodbank charity.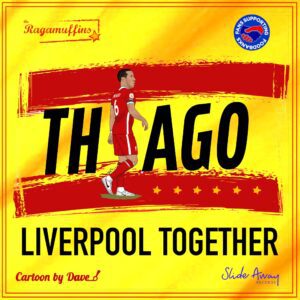 The current ban on football crowds means Fans Supporting Foodbanks are missing out on 30% of their donations, which they normally receive from matchday donations, at a time when the coronavirus pandemic has led to increased demand for the service.
David Jaggs, singer and songwriter for The Ragamuffins said: "A lot of people are having to use foodbanks who have never used them before because they have suddenly encountered a situation where their income is gone and it was not a situation they could plan for."
Fans Supporting Foodbanks was created in 2015 by Liverpool FC supporters group Spirit of Shankly and Everton's Blue Union and runs weekly matchday collections.  The charity provides 25% of donations to North Liverpool Foodbanks and during lockdown has seen its work increase.
Mr Jaggs said: "There are so many millions of people who have fallen through the cracks. These foodbanks are undoubtedly really good people doing really good things."
The Ragamuffins are usually found playing outside Anfield before Liverpool matches. This is their third single release for Fans Supporting Foodbanks this year, with 'Poor Scouser Tommy' and 'Aye Aye Aye' released at the start of the pandemic.
Mr Jaggs said: "It is a relatively small gesture from us but our hope is that it brings a lot of joy to a lot of people and raises some money.
"It is a real shame you cannot consistently get that atmosphere of new songs coming out from actually going to the matches, that you have normally. People still want to support the team in the way that they used to."
Watch the full interview with David Jaggs>>>