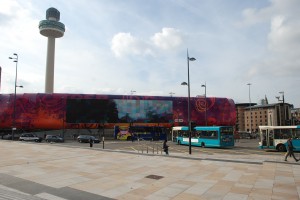 The giant advertising screen on St John's shopping centre is to become a permanent fixture, costing £1m.
Facing the entrance to Liverpool Lime Street station, the 120m long screen is known as the 'media wall' and displays moving images such as adverts and film trailers.
The wall between the Holiday Inn and St George's Hall originally only had planning permission for five years and was designed to conceal the unattractive ramp in St John's car park.
The council will replace the screen and fabric wrap-around with a view to making the feature permanent.
The LED screen hasn't always been popular with everyone with some believing it is unsightly and a danger to motorists; however it was monitored and found to have no effect on road safety.
St John's centre manager Iain MacGillivray told JMU Journalism: "I am in favour of keeping the screen it has a significant place in the community. Businesses and charities can advertise on there, an example was the recent Hillsborough vigil; we had that on the screen.
"The screen is strong and iconic over the world as it is one of the best advertising features."
BMW recently used the screen to launch their new five-series car; Mr MacGillivray believes the screen brings Liverpool as a city to the forefront.
He said: "We want to refresh the screen with new fabric because the current  design was made for the Liverpool Capital of Culture in 2008. We also want to get the latest technology and new LED bulbs."
Iain will be working with Liverpool City Council in working on future plans for the screen to make a new design that will reference Liverpool and give people a pleasant welcome when they get off the train.