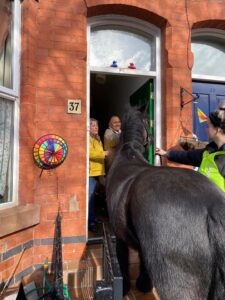 A popular pony riding school is expanding its door-to-door lockdown visits across south Liverpool to boost community spirits after residents wait on their doorsteps to see them.
Park Palace Ponies want to extend their daily walks to more people outside Dingle, Toxteth and Aigburth as they see the joy the visits bring with potential mental health benefits for everyone stuck indoors through the Covid-19 pandemic.
Voluntary director and trainee teacher, Bridget Griffin, 25 said: "These ponies are very much the Dingle ponies. They are not ours at all. Which is why it is so important for them to be embedded into the community.
"A lot of our riders live in the immediate area so, for them, the ponies are their best friends. They see them every week. Then not to have seen for more than six months, it is hard for them. They get used to them and build a relationship, and having that taken away is hard."
Ms Griffin added how a walk that would usually take 15 minutes now takes an hour as people come to their front doors to see the ponies.
"Some people are shocked, but others have been waiting on their doorsteps and tell us that they have been waiting there the whole time and ask us where we have been.
"Everyone has been so thankful and so happy. It has brought a real smile to everyone's faces."
The school has picked different areas to visit each day, with around three to six different ponies walked by paid staff and volunteers. The ponies are aged six to nine with the stars of the show Lillie, Malu, Mosses, Kev, Will and Magic.
Each family see the ponies separately and safely through social distancing.
Welsh street residents Ithalia and Luther Johnson told Liverpool City Council: "It is really magical just to have the ponies actually come to the doorstep, especially during these challenging times.
"It is so important to have some connection with animals. It is just very special for Luther who was so excited."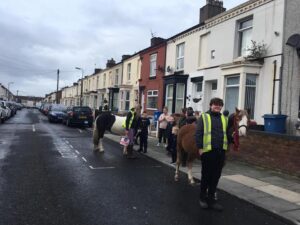 The inner-city riding school decided to get involved with the great British art exhibition and started the door-to-door visits when their annual half term projects were cancelled.
Their initial aim was for children to take pictures of the ponies whilst on their walks. The kids could then recreate this experience and put them on display in their windows to replace the half term projects.
The riding school also visited the Pier Head recently in support of world encephalitis day.
The riding school based on Mill Street in Liverpool 8 offers riding classes to 4-12 year olds for £10 – £15 per hour. They are hoping to reopen as soon as possible aftyer lockdown but only when it is safe to do so.
Initially the school was supposed to be a six-month project to test the feasibility of  inner-city riding schools. Strong community support has seen the not-for-profit initiative continue with all monies raised donated back into the business to look after the ponies.
You can contact Park Palace Ponies on 0151 708 0624.