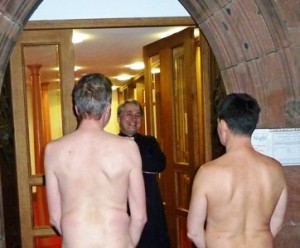 A Merseyside vicar is going to strip off for charity to raise money to buy some new church bells.
Halewood St Nicholas Church Vicar, Reverend Alan Jewell, and his congregation have agreed to bare all  to pose for a 'Calendar Girls'-style souvenir calendar.
Parishioners have been trying to raise money since a huge crack in the bell tower at the church meant bell-ringing had to come to standstill.
Around £100,000 has already been raised for the cause but that is still not enough to cover the costs of the repair work to the bell tower itself and to buy eight new lighter bells.
Reverend Jewell told JMU Journalism: "One of our bell-ringers persuaded me that the calendar would be a good idea. I agreed, thinking that that would be the last I heard of it, but the next thing I knew was that I was giving an announcement to the congregation asking for volunteers who were male, and 'not shy'.
"I had thought that we would only have a few men brave enough to have a go, but soon learned that we had more volunteers than there are months in the year! It doesn't matter if they are young or old, a perfect physical specimen or (like me) middle-aged and overweight. The point is that it is a celebration of the men of the parish, of all shapes and sizes.
"I hope that we will see bell ringing restored to St Nicholas'. The bells are not really for the congregation: they are for the parish. Everyone who lives in Halewood hears the bells, whether or not they are church-goers, so it reminds them that we are here and in business."
The money raised from the charity calendar will go to the Bells and Tower Fundraising group. Chair of the group, Alison Shacklady told us: "We have been very fortunate in obtaining some English Heritage funding towards this and have also made successful  bids to the All Churches Trust and the Garfield Weston Trust, plus we have had a very generous, anonymous donation of £8,000 from someone in Halewood.
"The rest of the amount we have raised by fundraising events and w e have been doing this for almost two years with something happening virtually every month over that time. The boys' calendar is very much part of this ongoing fundraising, and we are very proud of all our boys who have agreed to be part of this."