The shock result in the June referendum which now leaves the country on the road to leaving the European Union has caused widespread controversy and fierce debate.
While the poll outcome was clear – with 52% voting for Brexit – many still feel that a decision of such magnitude and complexity requires further consideration.
We sent a team of 70 reporters out onto the streets of Liverpool to ask 331 people: "Should there be a second referendum before the UK leaves the European Union?"
Although the survey sample was small compared to the city at large, the result perhaps reflects the deep divisions four months on from the Brexit verdict.
As many as 50% (165) of the UK citizens we polled said they were in support of a second referendum, while 46% (152) rejected the proposal, and 4% (14) said they did not know whether it was a good idea.
In the original referendum this summer, Liverpool was one of a minority of places in England outside London to prefer staying in the EU, with 58% of its residents voting 'Remain'. Last October, when the prospect of leaving the EU seemed relatively remote, we polled 341 people in the city on the subject and 67% backed the UK's membership.
This time round the verdict was much less clear cut and – in common with all of our street surveys – a varied selection of different and interesting opinions emerged.
YouTube: Cieran Simpson & Thomas Begbie, JMU Journalism TV
Liverpool pensioner, Yvonne Charlotte, was one of those who would welcome a second chance. The 65-year-old told JMU Journalism: "Yes because I think we'd get a different answer this time. There's now a broader understanding of what we have voted for. I don't think we had any idea before, and I don't think we had a clear statement from government."
Her decision was echoed by Michael Doran, 42, of Liverpool, who said: "Yes, because we had a referendum at the beginning where there were no terms of reference, so basically everyone who voted in that first referendum did so blindly. No one knew what the conditions would be."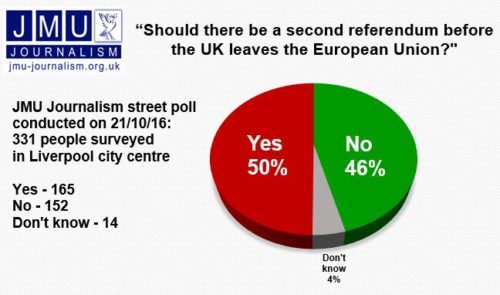 Woodchurch resident, 49-year-old Sue Carswell, disagreed, saying: "No, I think we should just go with the first vote, otherwise you'd just end up having referendums till the cows come home.
"There's nothing else you can do; you've got to go with the first decision. Just because people don't like it, you've still got to respect it."
Jamie Allcock of Liverpool was another to back Brexit, as the 20-year-old told JMU Journalism: "No, I don't think there should be a second one. I think Britain should be Britain on its own and it's about time we had some independence. That's why I voted out but I don't think a lot of my friends wanted the same as me."
Scroll through the edited comments below to read more of the views of the public in our exclusive poll.
Additional reporting by: Orlaith Clinton; Aroob Dar; Angelica Day; Evelyn Edward; Jack Gibson; Stephen Gibson; Rohin Jalota; Abigail Lawrence; Christopher Megrath; Sarah Moffatt; Simran Roy; Evie Saunders; Tiarnan Quigley; George Adams; Ben Higgins; Lauren Hole; Chloe Jackson; Lucy Jones; Jessica Jones; Liam Jones; Conner Kiernan; Stephen Killen; Harry Leahey; Adam Ledgerton; Cameron Letts; Shannon Lyon; Chantelle McKeever; Joseph Maude; Zak McCartney; Rose McMillan; Oliver Moore; Charlotte Mulgrew; Adele Matthews; Noah Aldous; Sophie Arrowsmith; Nathan Arthurs; Felicity Binns; Daniel Boal; Nadia Breen; Thomas Cameron; James Cheadle; Lauren Clewes; Ross Crane; Finbar Curran; Christa Daley; Matthew Doyle; Jack Drew; Lori Dunlevy; Emma Fegan; Summer-Marie Gedall; David Haycocks; Meghan Neil; Kerry Norman; Cliona Patterson; Liam Plumbley; Lydia Rennie; Lola Roberts; Chloe Smith; Megan Tattersley; Rebecca Thomas; Chloe Tomkins; Sarah Toner; Tammy-Lee Walsh; Mia Watson-Hart; Sean Whelan; Catrin Whitehead; Annie Williams & Scott Woodcock