One of the burning issues surrounding the future of both Liverpool FC and Everton FC is whether the clubs can each find the resources to build a much-needed new stadium, but another question persists.
Isn't it time for the Merseyside rivals and their fans to put aside their differences and join forces to share a new ground, within the confines of the city?
However, football fans throughout Liverpool have categorically declared their opposition to any potential groundshare arrangement between the city's two football clubs, following an exclusive poll conducted by JMU Journalism.
In total, we asked 175 people on the streets of Liverpool for their opinion, finding that 119 (68%) were against a proposed groundshare, while 51 (29%) believed it was a good idea.
Both Everton and Liverpool have been making plans to move to a new stadium for many years, with the former's controversial project to move to Kirkby collapsing, and the latter delayed by the troublesome tenure of previous owners Tom Hicks and George Gillett.
The idea of the two rivals sharing a stadium – with the benefits of lower costs and combined responsibility taken into consideration – has been suggested on many occasions during that period, but usually met with disagreement from Blues and Reds alike.
Liverpool supporter Joe Mullin, 49, from Aintree, shared the opinion of many, saying: "No. There's too much history between the two sides for them to make it work."
James Birtles, 20, from West Derby and also a Reds fan, said: "No, both teams have a rich heritage and past and deserve their own ground. If they were to share the rivalry would be lost and dampened."
However, Ken Cooper, a 69-year-old Everton fan from Liverpool, argued: "Yes. Because the way things are going now with wages they'd be better off if they shared, instead of going into debt. There's enough room to build a big stadium to rival the London ones."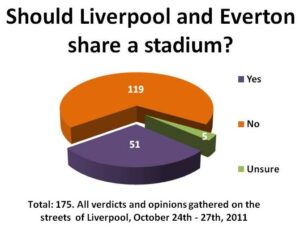 Fellow Everton fan Frank McKenna, 67, from Anfield, agreed: "What is the difference going and sitting in the same stadium. We are all from the same city. I think it's ridiculous these people saying we won't go and share the same stadium."
A key complaint from many to the suggestion was that it would not be "traditional" for the two sides to share, and a high number of people were concerned that such a move would lead to a "loss of identity" for each club.
Interestingly, the results from our poll show that Everton fans would be far more receptive towards the idea of a groundshare than their Liverpool counterparts. Just 24 of 115 Reds backed the idea, whereas there was almost an even split between Blues, with 27 for and 28 against.
Additional reporting by: Ida Husoy; Aimee Jones; Jack Maguire; Jade Masri; Nathan McCrae; Julianna Petkovich; Laura Ryder; Nick Seddon; William Shaw; Jessica Watters; Hollie Howitt; Karl Cryer; Christopher Cunningham; Ian Pemberton; Lauren Percy; Nathan Potter; Claire Reid; James Truesdale; Joshua Weale; Victoria Wilson-Parry; Lucia Campolucci-Bordi; Helen Healy; Jack Horrocks; Stuart Irving; Liam Jones; Chelsie Kirman; Paul McIntyre; Loren Mitchell; Duncan Moores; Callum Newton; Calum Shuker; Patrick Arnold; Bethany Avison; Jessica Ball; Lewis Bell; Jack Birch; Poppy Burns; Sophie Crawford; Niall Dudley; Aidan Dunlop; Simone Foggin; Daniel Gibson; Bill Evans; Havard Wattum; Scott Girling-Heathcote; Priyanka Zaveri; Anna Malone; Adam Nash; Dave Downie.