This week's historic vote on whether Scotland should break away from the union and gain independence has divided the views of Liverpudlians, but it seems that a large majority wants the Scots to remain in the United Kingdom.
The latest polls from north of the border suggest that the outcome is too close to call, with the 'no' advocates rated as having a slight advantage.
However, 'yes' campaign figurehead, Scotland's First Minister Alex Salmond, has gained huge momentum in recent weeks, despite the best efforts of UK Prime Minister David Cameron, his deputy Nick Clegg and Labour leader, Ed Miliband, to stop him.
Scottish residents head for the ballot box on Thursday, and on the eve of the big decision that could break up Britain, we went out onto the streets of Liverpool to ask locals and visitors to the city whether they think Scotland should vote 'yes' and go it alone.
Our exclusive sample poll of more than 200 people in town revealed that 141 (69%) felt Scotland should reject the chance to 'divorce' from the rest of the country, while 48 (24%) thought Scots would be right to choose to become independent, and 15 people (7%) could not decide.
Among those backing the 'no' campaign was former Lord Mayor of Liverpool, Councillor Gary Millar, who told JMU Journalism he is passionate about seeing his home nation stay part of the UK.
Cllr Millar, who is originally from Leith, Edinburgh, was asked if he wanted fellow Scots to vote 'yes' in the referendum, and he replied: "No, but it's nothing to do with economics or financial stability. In my heart I am just UK and British. Although I love Scotland, I live here [in Liverpool] so it is not for me to tell the Scottish how to vote. It is up to them."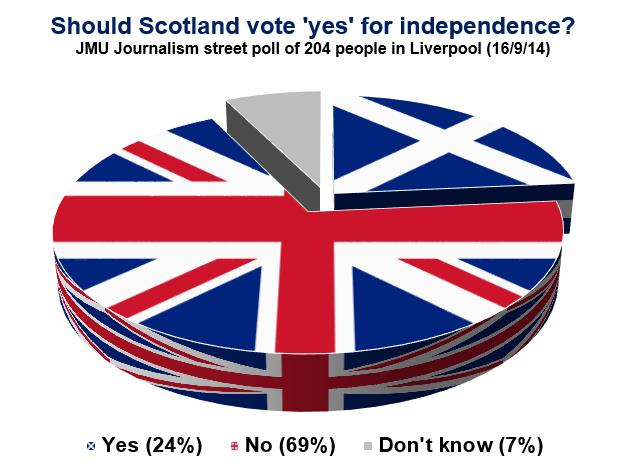 The Labour city councillor, who ended his tenure as lord mayor in June this year, also stressed how a decision in favour of independence would eventually weaken his party and leave the Conservatives strengthened in Westminster.
He added: "People say to me, 'well surely we should be better together?' and I agree. In the end, Scotland has been part of the UK for over 300 years and we had the Act of the Crown in 1603, the Act of the Union in 1707, and we have been together for a hell of a long time. Let's stay together.
"I get it intellectually, I get it economically but most of it for me is in here," Cllr Millar told JMU Journalism, pointing to his heart. "That is what the 'yes' vote has been able to do. Forget all the facts and the figures, it is actually about passion."
Wallasey-based Meredith Grainger shared that viewpoint and wondered about the views of the monarch, as the 52-year-old said: "I can't imagine a broken Britain. What must the Queen think?"
Michael Williams, 23, of Liverpool, said: "No, because we need them as much as they need us. The rest of the UK would definitely be a lot weaker."
Liverpool pensioner Nancy Ferry, 80, told JMU Journalism: "No. I'm worried sick because I pay into a Scottish bank. I've been paying it for years and when I pop my clogs, I want it for my grandchildren."
Independence supporters included 20-year-old Sian O'Neil from Liverpool "because they are strong enough to be on their own and their people shouldn't be governed from London, which has no connection to them".
Toxteth resident Amy Zheng, 24, said: "Yes. Although I don't know a lot about the history of the United Kingdom, my family are originally from Tibet, which is a region where their right to self-determination isn't accepted by China. Every nation should have their right to this."
Scroll through the edited comments below to read the opinions of others about the Scottish independence vote.
Additional reporting for JMU Journalism by: Josh Handscomb; Daniel Wright; Kaltun Abdillahi; James Busby; Bradd Chambers; Michael Glynn; Alice Kershaw; Melissa McFarlane; Angharad Millington; Josie O'Sullivan; Lauren Pulford; Imogen Sweeney; James Tomlinson; Georgie Whitworth; Hannah Anderson; Rebecca Cookson; Liam Cotton; Kieran Etoria-King; Matthew Judge; Megan Hill; Amy Holdsworth; Josh Kelsall; Emily Lewis; Emma Marsden; Samuel Peers; Stevie Pickering; Laura Schumann; Olivia Swayne-Atherton; Hollie Bradbury; Katie Dodson; Georgia Dunning; John Elsworth; Anthony Fisher; Samantha Gaulter-Green; Dan Goulding; Sarah Hancocks; Adam Jones; Sophie Lockett; Lydia Morris; Sean Purvis; Adrian Speed; Owen Swift; Josie Timms & Kayleigh Watthey