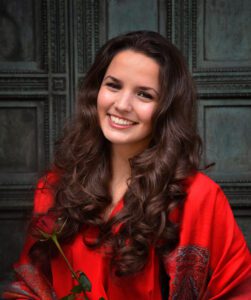 A song written by a Liverpool schoolgirl has been played on Libyan TV, and has given her the confidence to play them live.
Sophia Ben-Yousef, 16, a student at Merchant Taylor School, wrote a song inspired by the Arab Spring uprising just over a year ago. The song Carry On was played live on national Libyan TV at the end of October.
Sophia told JMU journalism: "It was amazing. I was in shock my dad called me to say, 'You've just been played on national TV in Libya'.
"It was incredible to know people have heard my song. It's a sad song but there is a theme of hope running through.
"I've been singing and playing piano for as long as I remember. I only have one grade in piano but I've gone on to play and just enjoy it."
Sophia's mum Lynn said: "I am immensely proud of Sophia"
Sophia originally wrote the song for a school competition but due to most of her family living in Libya she has a strong connection to the country that inspired the song.
She said; "Despite the language barrier I feel like I belong there.
"I was watching the news  a lot and speaking to my dad about the events in Libya, then one day I was playing my piano and it just happened."
Around the time she wrote the song, Sophia's cousin was kidnapped by Gaddafi's men. He was tortured and was only freed on the eve of his execution thanks to the intervention of NATO.
Lynn told JMU Journalism: "Every day we lived and breathed the war. Everything else in our lives came to a standstill."
Sophia also lost her grandfather just before the country was liberated and later lost her grandmother due to the stress of the uprising.
Sophia added: "The lyrics definitely tie in to what's happened over there."
Sophia and her family used to visit at least once or twice a year but haven't been since before the war. However, they intend to return as soon as they can, in between Sophia's GCSE's and gigs.
She told JMU Journalism: "I'd love to think that my music will have inspired people just to keep or remain hopeful. Give them a silver lining.
"Even if I've just made one person smile, then that's good enough for me."
After believing she was not good enough to play live at gigs, Sophia has been approached to play at a variety of Liverpool venues this year.  She believes her confidence levels have been boosted.
The teenager said: "Since I have been playing in Liverpool, the reception I have got has made me believe my music is worthy of being played and being listened to. I'm also now getting paid gigs.
"I have more confidence in myself as my songs are a reflection of me."
Sophia is currently in the process of recording her song Carry On and has the following upcoming gigs:
27th November in Hannah's bar
2nd December in Café D'Art, supporting Robert Vince
6th December in the Racket Club
9th December in Studio 2