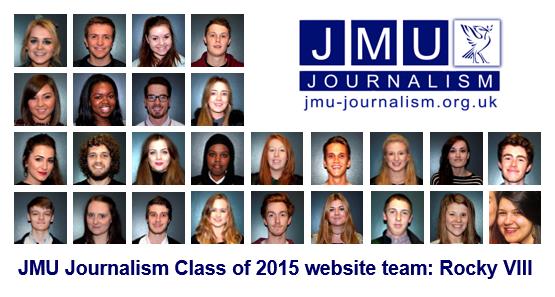 The new JMU Journalism website crew has been unveiled, as Rocky VIII takes the helm for the 2014/15 academic year.
More than 25 students from the graduating class went through a challenging selection process this week to earn a number of content management roles on our site, with the applicants picking up many useful tips along the way.
Lewis Mellor, who landed a job as one of the politics correspondents in general election year, said: "The interview process was something that I gained a lot from. It was tough, but once it was over I actually felt more positive coming out afterwards than when I went in.
"I hope to overcome all the obstacles and challenges this will throw at me, but I expect it will be an opportunity that I will relish and enjoy."
Photo Editor Natalie Townsend immediately went to work taking team pictures at the first website meeting, and said afterwards: "Photography is something I've done for many years and I was very keen to involve it in my journalistic practice.
"The interview was a real eye-opener and has prepared me mentally for what's expected of me and how I should conduct myself in future.
"I'm excited to work within the team and get to know everybody, on a professional as well as a social level."
Sports Editor Adam Jones said: "I want to really challenge my writing style this year, going the extra mile and gaining some experience at watching all kinds of different sports."
Hollie Bradbury, who is one of our new Fashion Editors, said: "I have wanted to join the JMU Journalism website team since the first year and to now be a part of the eighth generation of reporters is a privilege.
"I am mostly looking forward to working with a great team of people, all trying to make this year's website the best it has ever been.
"I think it will give me invaluable professional work experience to take forward beyond university."