Over 60,000 Liverpool and Everton fans descended on London on a sunny Saturday morning for what was to be an eventful FA Cup semi-final from which the red half of the city emerged victorious.
Having left Merseyside in the early hours, some as early as 3am, they were filling up the London Underground and drinking in some of the capital's finest pubs early.
Buoyed by their recent good form it was Everton fans who were in high spirits as they headed to the game with one Evertonian stealing the show on a packed train carriage from Euston station to Wembley when he quipped: "Anyone know how many keepers Liverpool got from Chester Zoo?" referring to Liverpool's goalkeeping woes.
Before the game, Phil Stone, from Hoylake, told JMU Journalism: "The derby is always great because you always know friends and family who support the other team. However being at Wembley makes it a lot more fun!"
Steve Clayton, from Liverpool, said: "It's fantastic to have a Merseyside derby at Wembley once again, the atmosphere is brilliant already."
As the fans made there way into the national stadium for the 218th Merseyside derby the occasion sobered somewhat as both sets of supporters observed an impeccable minute's silence in remembrance of the Hillsborough disaster 23 years ago.
"That was well preserved. It goes to show that this city is united in times of hardship. So far the fans have represented Liverpool well," Adam Brentnall, from Liverpool, said.
After events on the field which saw Nikica Jelavic's opener cancelled out by Luis Suarez and Andy Carroll there was plenty of praise for the match winner, the much maligned Carroll.
James McNally, a Liverpool fan, said: "I thought Carroll showed his worth today, that goal alone was worth £35 million, brilliant game."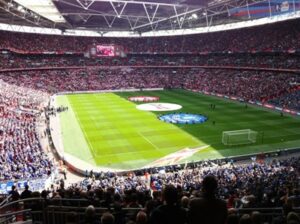 For Everton, emotions were different as Nick Carver lamented his team's failure to end their 17-year trophy drought: "That game summed up our team over the past few years, we were in control and let it slip, another year without a trophy."
Both fans exited quickly to catch the Grand National taking place back at Aintree. It was generally acknowledged that both sets of fans conducted themselves in an excellent manner.
One set of supporters will be heading back to Wembley next month as the win for Liverpool puts them into their second domestic cup final this season under Kenny Dalglish. But for Evertonians, they will be hoping that David Moyes can at least lead their side to finish above Liverpool in the league.