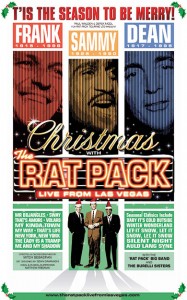 Should there be a law preventing Christmas music being played in shops and around town before December 1st?
After the way the 'festive season' has now crept into mid-October, it's safe to say that many would support such legislation (not least the poor shop workers), but you wouldn't have found anyone in agreement with a Christmas music ban at the Empire Theatre on Wednesday night.
The Rat Pack is in Liverpool, and when Frank Sinatra tells you to "have yourself a merry little Christmas", you do exactly as you are told.
The long-running West End tribute show, featuring performances by actor/singers reviving the legendary characters of Sinatra (Tam Ward), Dean Martin (Phil Barley), and Sammy Davis Jr (Jay Marsh), came to the Empire promising a Christmas spectacular, and the coolest swingers in town certainly delivered.
Only a fraction of the songs were Christmas tunes, which left plenty of room for many of the classic tunes associated with the trio, and from the moment Sinatra breezed onto the stage to demand 'Come Fly With Me', he had the audience in the palm of his hand.
Ward's Sinatra was the focal point for much of the show, but the best performance on the night was delivered by Barley as Dean Martin. Although Barley may look a lot more like Shakin' Stevens than Dino facially-speaking, vocally he was absolutely flawless – pure velvet.
His 'drunken lounge lizard' delivery captured the essence of Martin, and songs like 'That's Amore' brought smiles to so many faces. At one point, unable to contain myself, I started singing along out loud to 'King of the Road', and glanced down the row to see everyone joining in with me… except nobody else was singing.
Marsh is much too tall to convey the fragility of Sammy Davis Jr, though he certainly can't help that and he more than made up for it with his voice on tunes like 'Mr Bojangles'.
Backed by booming The Rat Pack Big Band and the coquettish Burelli Sisters, the talented trio kept the audience happy throughout, though the stage microphones could have done with being turned up a notch or two.
Some of the 'boisterous' stage banter may have been a little forced, but possibly no more so than when it was delivered at the real Sands Hotel and Casino in Las Vegas half a century ago.
Frank seemed certain to close the show with 'My Way' – after all, posters had promised this classic crowd-pleaser – but it came as something of a let-down when the curtain finally fell and the house lights came up without it.
The time to sing that "now the end is near" had passed, but at least we can officially say that Christmas has arrived… because Mr Sinatra said so.
Christmas With the Rat Pack runs at the Liverpool Empire until Saturday December 1st.