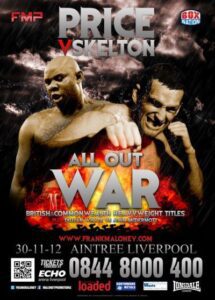 Liverpool's David Price is set to continue his route to the top of the heavyweight division when he takes on Matt Skelton at the Aintree Equestrian Centre on 30th November.
The defence of his British and Commonwealth titles comes only a month after the Liverpudlian dispatched Audley Harrison in 82 seconds at the Echo Arena.
However, unlike Harrison, former kick boxing world champion Skelton does not come without his challenges. Fight promoter Frank Maloney described the threat posed by Skelton: "There is a reason I pick every opponent and I think he is the most dangerous opponent we have got.
"He brings something that David has never had to face before. He will come in rugged; he will come in like a bull. We know that is something David hasn't had to face yet and we hope David is going to win and we hope that he is going to learn something from that fight."
Some have questioned the bout and how it is a sideways move for Price, but he hit back, saying: "There is no denying that he [Skelton] was a better professional than Audley Harrison and he has achieved. He has been British, Commonwealth and European, fought for a world title.
"He has been a right handful over the years. It is a massive progression again."
With only 48 days to prepare for the fight, Price told JMU Journalism about how he plans to counter Skelton's style of boxing: "I am going to have to be pushing Transit vans around car parks, to get used to something strong and big leaning on me.
"It is a different type of fight, but I will have a nice big ring to move around, I will be moving my feet. It is something different but I think it will bring the best out of me again."