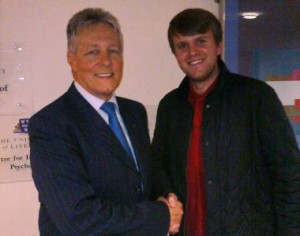 Northern Ireland's First Minister Peter Robinson has said he believes Liverpool is like "the seventh county of Ulster" on a visit to the city.
Mr Robinson was speaking to JMU Journalism after he gave a lecture to students from the Institute of Irish Studies at the University of Liverpool where he gave an account of his role in his country's recent history.
After the talk, in which the Democratic Unionist Party (DUP) leader spoke frankly about many of the political struggles on the road to peace in Northern Ireland, he explained why he had travelled to Liverpool.
Describing the city as "the seventh county of Ulster" he said: "It seemed like a good opportunity to put on record the DUP's role, something we hadn't had the chance to before."
Last month, it was announced that tuition fees in Northern Ireland would be capped at £3,500 and the First Minister was clear in his reasons why, saying: "We want there to be no policy in place in Northern Ireland to discourage people from going to University."
He added that he did not want to see opportunities for prospective students being limited to "how fat their father's wallet was."
Mr Robinson explained that he now expects to see more students from the Republic of Ireland studying in the North, rather than in England, due to the increase in fees to £9,000, a decision of which he was highly critical.
"It will go down as a mistake," he said. "There will be consequences. If I was Labour, I'd have drawn up at least one page of my manifesto by now."
At the recent Labour conference in the city, Ed Miliband proposed a drop in fees to £6,000. However, local MP Stephen Twigg confirmed to JMU Journalism that that was not yet a manifesto pledge with the Labour party not set to contest election for another four years.
Despite the serious nature of much of the lecture, Mr Robinson found time to include some amusing anecdotes.
In one, he recalled his relationship with former Prime Minister Tony Blair which he said was a frosty one. Once during a meeting between the pair a fire alarm went off, Mr Blair asked: "What's that?"
"The lie detector," quipped Mr Robinson.