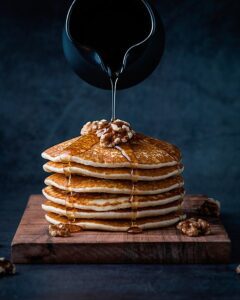 Get your baking skills at the ready, Pancake Day is here!
Whether you prefer fluffy American pancakes or more of a crepe style, everyone can take part in the celebrations.
What is Pancake Day?
Also known as Shrove Tuesday, Pancake Day is a celebration observed the day before Ash Wednesday.
It marks the last day before the Christian observance of Lent, a period between now and Easter.
It has become a tradition for people to eat pancakes on this day as a way of using up ingredients that they would not be allowed to eat during Lent.
History of Pancake Day
It is believed that the celebration of Pancake Day has been taking place since 16th Century Britain.
The ingredients – eggs, butter and fat – were typically banned during Lent so were used up on Shrove Tuesday.
The day was celebrated long before pancakes, with Christians using the week to confess their sins before Lent started.
Of course, what you all want to know is how to make the perfect pancake>>>
View this post on Instagram
Recipe for 12 pancakes
Ingredients:
100g plain flour
2 large eggs
300ml milk
1 tbsp sunflower or vegetable oil, plus a little extra for frying
lemon to serve (optional)
caster sugar to serve (optional)
Step 1
Put 100g plain flour, 2 large eggs, 300ml milk, 1 tbsp sunflower or vegetable oil and a pinch of salt into a bowl or large jug, then mix to a smooth batter.
Step 2
Set aside for 30 mins to rest if you have time, or start cooking straight away.
Step 3
Set a frying pan over a medium heat and carefully add a little oil.
Step 4
When hot, cook your pancakes for 1 min on each side until golden, keeping them warm in a low oven as you go.
Step 5
Serve with lemon wedges and caster sugar, or your favourite filling.
Enjoy!