Liverpool FC is supporting local businesses to continue celebrating International Women's Day.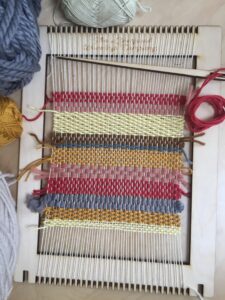 Five local female-led businesses received £500 each as part of the club's Pay it Forward initiative.
The businesses are encouraged to use the money to cover the cost of their product or service for women in the community who may not be in a position to cover it themselves.
Liverpool Weaving Company are one of the recipients and are using the donation to cover the costs of 10 Start Weaving Kits.
The 10 kits can help those who feel creativity would positively benefit their wellbeing through art therapy. People are encouraged to nominate women who they think would benefit from a free kit.
Founder of Liverpool Weaving Company, Kirsty Leadbetter, said: "I have received quite a lot of nominations so far and I think the people who nominated are exactly the type of people that I had in mind when I had this idea.
"That's people who are shielding and people who have suffered mental health problems such as anxiety and maybe spend a little bit more time in the house than others would.
"I've had nominations for elderly people and people who have been working on ICU wards or have been working for the NHS over this period and feel as though craft would be a really calming outlet for them."
Lynne Stockton Howard, senior vice president, HR, and equality, diversity and inclusion executive sponsor at LFC, said: "As part of our Red Together strategy we are dedicated to ensuring the club is a fair and inclusive place for all of our colleagues and supporters.
"Making sure we celebrate important milestones like International Women's Day not only helps to accelerate gender parity but ensures the conversation around equality and diversity in all of its forms does not go away."
Liverpool Weaving Company is the city's first and only micro mill and host weaving workshops across the North West which are currently taking place online.
Ms Leadbetter said: "LFC contacted me which was really nice. I am already a massive Liverpool fan and my family have been lifelong season ticket holders. When they got in touch with me I was really taken back and really happy that they contacted me.
"I think it is amazing that initiatives work in that sort of way where the football club do have foundations that help people in the area. It's really valuable that they get involved in the community as well.
"I think craft is a really fantastic freedom of expression and the idea of being able to cover the cost of the looms for people who feel that creativity would positively benefit their wellbeing which is really important at this time."
Listen to Kirsty Leadbetter discussing the benefits of crafting in lockdown>>>
Nominations close on 19th March when the 10 women will be selected at random.
You can nominate a woman you think would benefit from a kit here.