The removal of the Wheel of Liverpool has been shrouded in mystery with the future of the city landmark unclear.
The 196ft tourist attraction has been based at the Albert Dock since 2010 but last week started to be dismantled piece-by-piece.
Dubai-based opertating company Freij, who also own the Wheel of Manchester, have declined to comment to requests to explain why the giant ferris wheel is being removed and whether it will appear in the city again.
The Wheel of Liverpool was known for stunning panoramic views of the city and featured 42 pods including a VIP pod with a glass floor.
Original operators Great City Attractions spent £6m to install the wheel before the company went into administration in 2012.
There has been a mixed response on social media with some customers sharing fond memories of their experiences with others welcoming the departure of the wheel.
Denise Dippenaar said: "About time. It was a real eyesore on the landscape."
Leslie McGibbon said: "How can It be a Liverpool landmark when there are dozens all over the UK."
"Good riddance it was overpriced," said Phil Landy on the Liverpool Echo's Facebook page.
Freij haven't posted on The Wheel of Liverpool's Facebook page since January, several months before the attraction was forced to close due to the Covid-19 pandemic.
One disappointed Liverpool resident commented on a Facebook post by the company: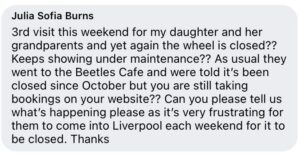 "Third visit this weekend for my daughter and her grandparents and yet again the wheel is closed? Keeps showing under maintenance. As usual they went to the Beatles café but were told it's been closed since October, but you are still taking bookings on your website? Can you please tell us what's happening please as it's very frustrating for them to come into Liverpool each weekend for it to be closed. Thanks"
While many comments suggest the Wheel of Liverpool will not be missed, some people have taken to Twitter to share their fond memories of the wheel from over the last decade.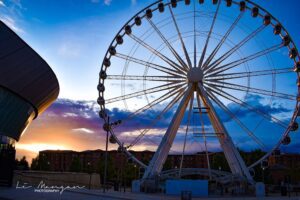 Photographer, Li Mangan, from Liverpool, posted on Twitter: "I hope the reports of the wheel coming down aren't true." Along with her own photograph of the wheel at sunset.
Another Twitter user, @SlicFM_LRT, posted: "End of an era, looks like the Liverpool Big Wheel is rolling out of town! ☹"
Although the news has come as both pleasing for some and shocking for others, the wheel has certainly made an impression on the city over the last 10 years.