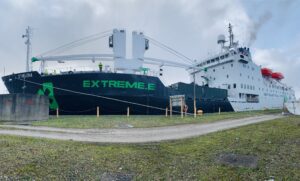 The Wirral said farewell to the St Helena, Extreme E's eyecatching floating centrepiece, with a traditional champagne launch.
The large-scale renovation took place over two years and left Cammel Laird's ship-yard, setting sail for the championship's inaugural race weekend, which takes place on April 3-4 in Saudi Arabia.
Extreme E is an FIA sanctioned international off-road racing series that uses spec-electric SUV's to race in remote parts of the world.
Ben Girven, a 26-year-old welder, who worked on the extensive project, said: "This has been a really huge project for Extreme E. They plan to use the ship to transport all the vehicles to different races as it is the cleanest and safest way to transport them around the world.
"The ship is unrecognisable from when Extreme E bought it back in 2018. The amount of work that has gone into transforming the ship to what it is now, is phenomenal."
View this post on Instagram
The ex-Royal Mail Ship, which was once the lifeline to the island of St Helena, has been in the care of Extreme E for over two years.
In that time the ship has gone through a multi-million-euro renovation, including an in-depth mechanical remodel as well as a full refurbishment of the interior.
Mr Girven from Tranmere said: "This week we've seen Extreme E's race fleet of electric vehicles being loaded onto the ship along with freight from the teams and partners. It's been really exciting to see it loaded onto the ship."
In keeping with Extreme E's environmental stance, highlighting a variety of climate crisis issues through its unique form of motorsport, the refit was carefully considered at all stages and the build focused on upcycling and reusing rather than removing and replacing many of the fundamental elements of the ship.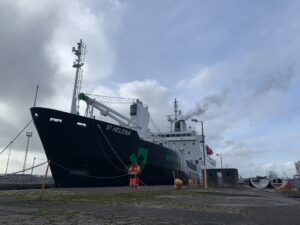 Extreme E Founder and CEO Alejandro Agag attended the launch as well as a plethora of fans and photographers all eager to see the ship leave the famous dock.
John Stokes, 65, from Birkenhead, said: "It's a magnificent feat of engineering and knowing it is full of all those incredible vehicles is just so exciting. I had to come and see it with my own eyes."
St. Helena will sail through the Mediterranean to Saudi Arabia, where it is expected to arrive after 17 to 20 days.
After Saudi Arabia, she will go back through the Mediterranean to Senegal, across to Greenland, down to the Amazon and then further south to the final destination of the season in Tierra del Fuego, Argentine Patagonia.